The Success of Tom Harper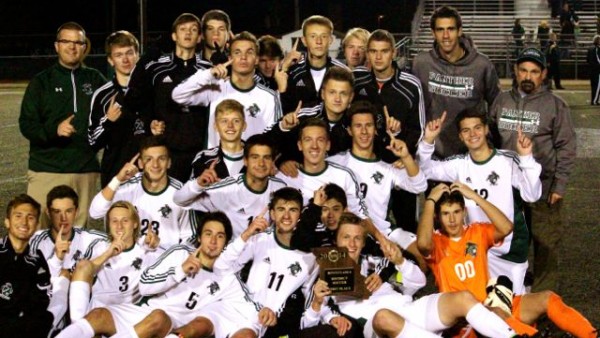 Hang on for a minute...we're trying to find some more stories you might like.
Tom Harper, head coach of the boys varsity soccer team, is entering his 12th year of coaching at Mehlville. Over the years he has accomplished many things which include trips to the semi and quarterfinals of state, multiple district titles, and sending many of his players to college soccer. I caught up with coach Harper to ask about his experience at Mehlville.
Mehlville Media: How long have you been involved with soccer? (As a player and a coach)
Coach Harper: I started playing since I was five years old. Coaching wise, I've been coaching for 18 years as either an assistant or a head coach. My first stint as a coach was at Parkway Central and I coached girl's JV soccer. This will be my 12th year as the head coach here at Mehlville.
MM: What motivated you to start coaching?
CH: I missed my opportunity to play in college. I still enjoyed the game a lot and I thought I had a lot to offer by being a student of the game, coaching gave me my outlet to do that.
MM: The last two years you have won back to back district titles. What factors/coaching strategies have contributed to the continuing success of your teams?
CH: It's just continuity and being consistent with the kids. They know coming in that there's high expectations and no matter the outcome of the season, those expectations remain the same. It's more on them because if they come out and play the way we know they're capable of, it's really an easy job for us.
MM: A lot of your past players have gone on to play at the collegiate and professional level. What is it like as a coach to see your past players still playing and developing their game?
CH: When you go watch the players you used to coach (now playing in college or professional) they take time to come and share a moment with you, that just tells you that you did the right thing and you lead them in the right direction. It's a proud feeling and it brings a lot of stability and recognition to the program as it drives these kids to see that there is an opportunity.
MM: Over the Summer in St. Louis there was an exhibition match between STL FC and Seattle Sounders FC 2 in which Emir Alihodzic (Mehlville alumni drafted to the MLS) played in. Were you at that game? If so, what did you think about his goal?
CH: Yes, we actually made sure that we had good seats for that game and got down close to the field. It was pretty amazing for him and for everybody else to be there because I know he really wanted to score. It was great for him to score his first professional goal because it'll be something he'll never forget and we'll also never forget because he did it back home. Hopefully when he gets to the first team in Seattle we'll get to say that we were there when you got your start.
MM: What has been your favorite memory while coaching at Mehlville?
CH: For me, it's going out and interacting with the kids everyday. Whether it's being disciplinary with them or having a good time with them, it's all about having that constant interaction. It's fun and that's the most important part.
Coach Harper and the boys soccer team are off to a solid start this season as their record currently stands at 4-1. They hope to continue their success and pursue their goal by winning a third district title in a row.