GO St. Louis Marathon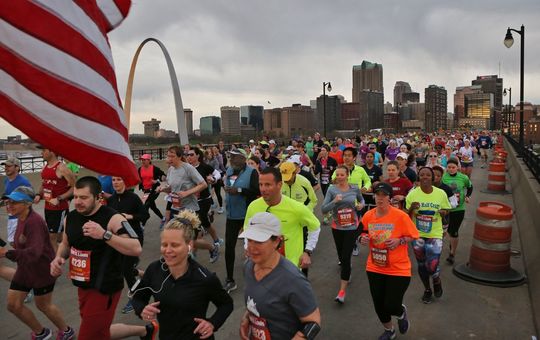 Hang on for a minute...we're trying to find some more stories you might like.
    This year many Mehlville students will be participating in the GO! St. Louis Marathon on April 8th & 9th, 2017. The start/finish of the race is at 15th and Market street in downtown St. Louis.
    This is the third year Mehlville Students have participated in the 25,000 person race. The program has grown larger at our school and at least 60 people have shown interest for this years contest.
    Students will be running alongside teacher coordinators Ms. Wojewuczki and teachers Ms. Pichler and Ms. Clark.
    Students can enjoy more than just physical benefits of getting in shape. Jill Wojewuczki believes the race has many benefits, "The self esteem, goal-setting and discipline students learn through the training translates into improved performance in the classroom and other challenges they may seek".
    Students will receive running shoes, a t-shirt, a finisher's medal, and a finisher's jacket. Students also have the opportunity to apply for a $1,000 scholarship for college.
    Students involved in the race train hard for 5 months. "On average most students improve their mile by a minute and a half," said Wojewuczki.
    The greatest benefit of the experience is the race itself, "Crossing that finish line is such a great feeling because most of the participants never thought they could compete 13.1 miles," said Wojewuczki.
    Students train as a group and use one another for support. Wojewuczki believes that one of the reasons many students come back again to run is because of all great memories made in the past few years.
    Ms. Wojewuczki and her colleagues Ms. Pichler and Ms. Clark are looking forward to the race and enjoying time with the students.