To Be In Shape Or To Be In Style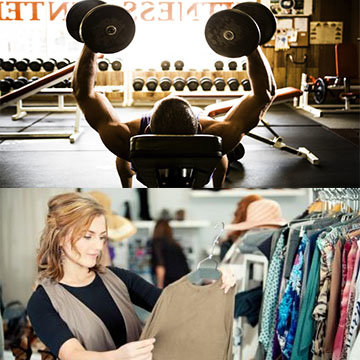 Hang on for a minute...we're trying to find some more stories you might like.
     About this time each school year seniors are motivated to get to the gym for their spring break body. Senior students try their best to get in shape for their spring break plans. Other students focus on dressing up for school. But the real question is would they rather be in style or in shape?
     I believe being in shape is a better way to live your life. It's healthier and will help you feel better about yourself after a nice workout. Many teens in this generation have the worries of what others think about their clothes and how they look. To some students, being in style is a major issue for them, usually. The boys often focus on being in shape rather than being in style. When you go to the gym you almost always see more boys than girls. Many boys nowadays are making the gym apart of their everyday routine.
"I'd rather be fit because I stay active and healthy. Fashion makes no difference to me. The gym is a stress reliever and it is healthy at the same time." said senior Chase Matzen
     But being in shape does allow you to wear and pull off almost anything. More risks can be taken with what you choose to wear, you can down dress and still look good. You can always choose both though, be in style and in shape. All you need to do is workout and buy nice clothes that fit you well, but it takes more than money to make what's underneath the clothes look good and feel much better.
     Having fit clothes and looking well dressed can make someone who is really not in shape look good. Having good fitting clothes and looking good is a big ordeal because it's how you visually view yourself and how others view you. Without good fitting clothes and a good look it really doesn't matter if you're in shape or not.
     But then on the other hand some students may not even have the money to get the clothes that are trending and the clothes they want. Being in shape is an easy task to maintain if you are dedicated. If you don't have the money for stylish clothes or a membership for the gym, you can always do exercises at home to keep yourself in shape or get a job and save money to buy the clothes you want to wear.