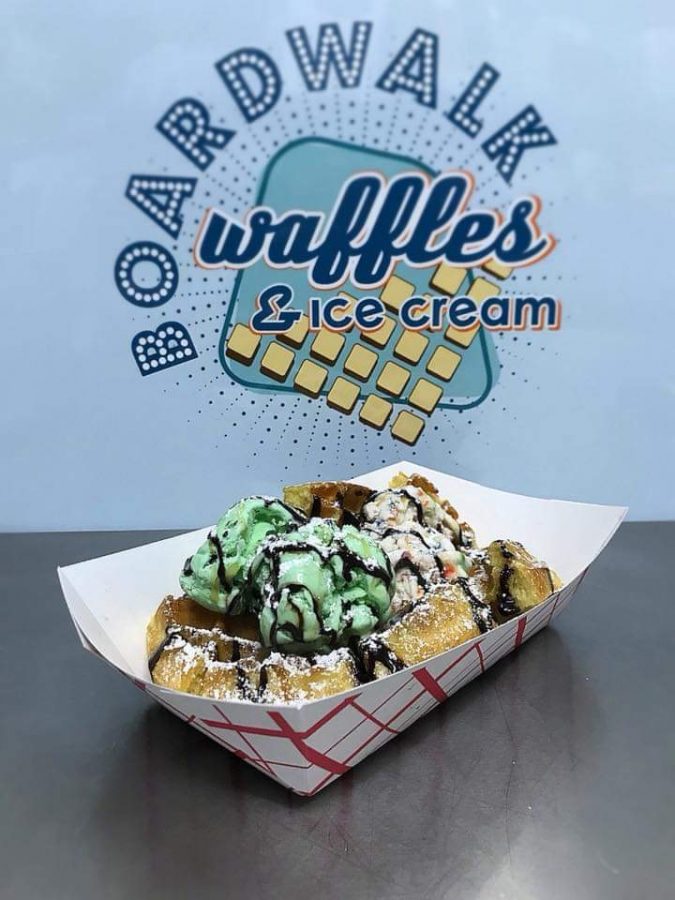 Boardwalk Waffles
Do you want to satisfy your sweet tooth without breaking the bank? Look no further than Boardwalk Waffles & Ice Cream. 
Last August, Boardwalk Waffles had their grand opening for their newest location in South County. Located at 4348 Telegraph Road in Mehlville, Missouri, the ice cream shop was an instant success. They are now a hotspot for families and teens to get their sugar fix on the weekends.   
With a selection of over 16 flavors, Boardwalk Waffles offers customers a unique spin on the traditional ice cream shop. Instead of scooping ice cream into cones, they serve their signature sweet treat onto warm, fresh-made waffles. Customers can order a quarter, half or whole sandwich, which can then be topped with powdered sugar and a variety of sauces.
Another signature item is the "Wachos" – pieces of a whole waffle topped with two scoops of ice cream, then dusted in powdered sugar. Traditional waffle cones or bowls and milkshakes are available for purchase as well. 
Recently, I had the opportunity to try one of Boardwalk Waffle's signature waffle sandwiches. I chose the quarter-sized sandwich with a scoop of coffee ice cream in the middle. I thought that the ice cream was super creamy and paired well with the warm waffle. 
The portion sizes are generous and worth the price, but beware of how much you are willing to eat. You may think that you can eat a whole waffle and four scoops of ice cream, but in reality, that's quite a lot of food. If you were to get anything but a quarter size sandwich, I would suggest splitting it with someone else. 
Other than the food, the overall ambiance of Boardwalk Waffles & Ice Cream was spectacular. I loved the vibrant walls and retro-themed seating. While I was there, the ice cream shop was constantly busy with customers, but all of the staff were very efficient and friendly. 
Boardwalk Waffle's prices range from around $4-$8. This is relatively inexpensive compared to other ice cream shops in the area.
The new ice cream shop is the second of its kind in the St. Louis area. There is currently another location in Maplewood. The business will be expanding into the Soulard and Grand Center areas within the coming year.
Overall, my experience at Boardwalk Waffles & Ice Cream was wonderful. I love the vibe of the shop, its variety of flavors and friendly staff members. I can definitely see myself returning to Boardwalk Waffles & Ice Cream in the near future! 
Rating: 4.5 out of 5 stars