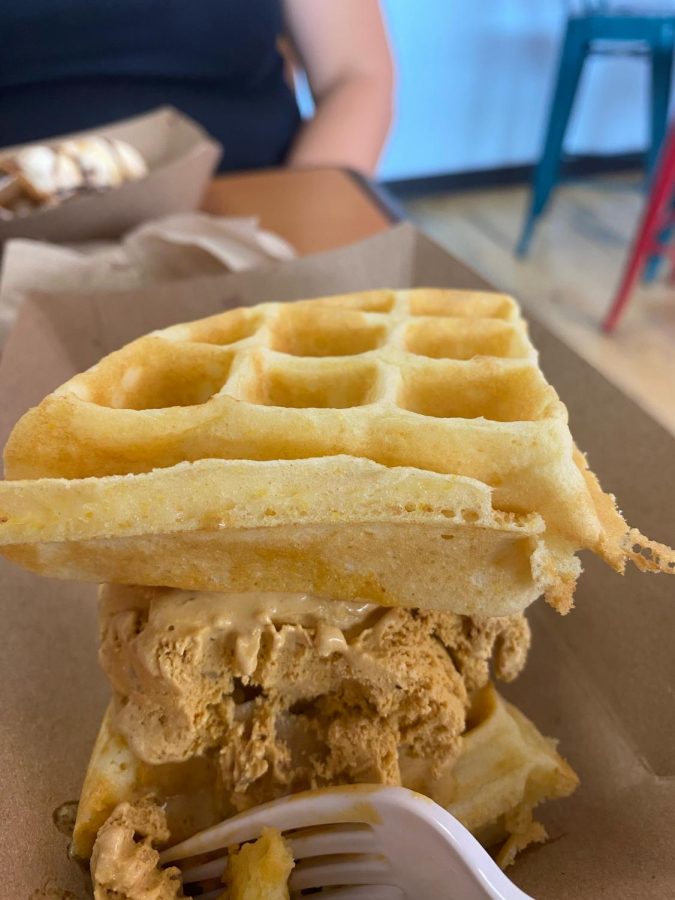 Savauna Stoehr
Some people may have heard that a new waffles and ice cream shop opened up on Telegraph. That shop is Boardwalk Waffles and Ice Cream.
Sept. 4 was the grand opening of their second location with the first location being in Maplewood. I went to the grand opening of the second location. The line was long due to the popularity but the wait was bearable.
When I entered the shop I saw amazing decor, and it all looked very exciting. The whole place is well organized and colorful. The seating arrangements are very cute and the light fixtures look bright and modern.
I noticed when they were making my waffle, one of the waffle makers was going out, but I thought of it as a first day struggle. Despite the setback, they still managed to have good customer service.
They had a variety of choices in terms of ice cream. There was also the option of vanilla or chocolate waffles, and what amount of the waffle you wanted. For example, you could ask for a quarter, half, or whole waffle, and also if you want it in a sandwich form with ice cream. They could also cut the waffle in pieces then add ice cream so it's like ¨wachos¨ ( waffles in a nacho form).
One of their seasonal flavors is pumpkin which is what I chose.  I had a quarter waffle sandwich with one scoop of pumpkin ice cream in the middle. With the portion of food I got, it was filling. They had a bunch of other flavors too, from fruity, to more chocolaty. They gave you an option of toppings at the end for chocolate and caramel syrup and/or powdered sugar.
Boardwalk's prices are reasonable with the lowest starting at $2 and the highest being $20 for food items. It is definitely a teen-friendly atmosphere and the prices will fit into a student's budget.
The whole theme of the room was extravagant, and I had a good time with my family. I highly recommend taking a trip to Telegraph to check out this trendy new eatery.