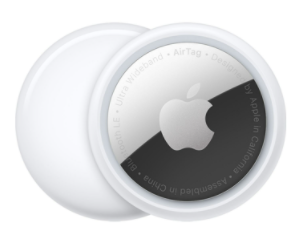 Apple, Inc.
Apple AirTag is a new way to keep track of your things. Carry it on your keys, slip it into your purse, put it in your car, and so many more ways to use this small but mighty device. 
Misplacing something becomes stress free when an AirTag is attached. You simply just play a sound by going to your Find My app on your iPhone and then a sound will begin playing on the AirTag, and you just follow the sound to recover your item.
Not only does the AirTag help recover lost items it also can prevent unwanted tracking. For example, if someone elses AirTag ends up in your things then your iPhone would send an alert to notify you that it is traveling with you. If you don't see this alert or can not find the AirTag, it will play a sound, to alert you. I think this is the best feature about the AirTag, because it can help so many people all around the world remain safe.
It's important to stay away from unwanted tracking but at times the AirTag can be beneficial to tracking others such as children. Many parents and caretakers have begun using the AirTag to make sure their children are safe. All they have to do is put the device into their child's  backpack, bike, or any other item that travels with their child. Simply letting the child know that the AirTag is with them for their safety, can possibly prevent unnecessary stress if an emergency were to occur. 
If the Apple AirTag sounds like something that would work well for you or someone you know, the device can be purchased through Apple, Target, and many more retailers.