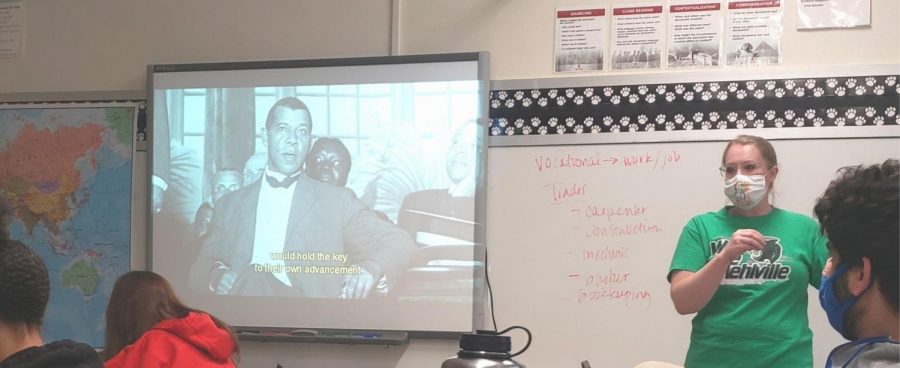 Mya Williams
A new school year always brings new challenges. Changes of schedules and a switch around of classes can be stressful, yet fun. This not only for students either, teachers also face these new challenges. Amy Bush is one of the many teachers who faces such challenges. 
Bush is a social studies teacher here at Mehlville High School. Her personality is decorated in her classroom and its colorful, informative posters. Inspirational quotes from historic people, art from figures just somewhat known, but needing more spotlight on their stories. Three different whiteboards to help explain things that were spoken about and were watched, and a board decorated with student works and sheets of information.      
 Even her goals reflect who she is. 
"My goals are to see students take connections and grow in their skills and understand how much everything is connected when it comes to geography, culture, history and social studies, the whole gambit," Bush explains. 
In the interview with Bush, we discussed some of her background. Before coming to Mehlville, she worked in an urban charter school, St.Louis College Prep, which closed a few years back. She taught World History, Personal Finance, Yearbook, and Entrepreneurship there for three years before coming to our school. Here at Mehlville, she teaches European World History, Government, and African American Studies. 
The class that she has been chosen to teach this year is African American Studies. After Daniel Lamping had to juggle multiple classes and stop teaching a few others, some classes had to be spread to other social studies teachers. Bush was chosen for African American Studies. 
She thinks there are a  few reasons for this choice, aside from the need for teachers in these classes. 
"I think other reasons why I was specifically asked to teach it is because of my experience in city schools where I had predominantly black students in my classroom and had black leaders in our building. I think another reason why I teach the course is because I've been involved in anti-racism forum with Cheryl Ogolin and a bunch of other teachers who have read books like "Ending White Supremacy" and have also created an anti-racist toolkit for teachers. "   
She also got some great training over the summer, through the Teaching Black History Conference which is hosted by the Carter Center for Black Education and stems from Mizzou. Bush has also had meetings with Lamping to look at resources he has and what he's done with past African American studies classes. 
With this training and with prior knowledge, so far she thinks the class is going in a good direction. 
"So far I think it's going really well. I don't want to say excellent because this is the first time I've taught it and I don't know how amazing it can be, but I have been really impressed with how engaged students have been," Bush said, "I recently gave a reflection survey because I wanted feedback, and I wanted to make sure students felt comfortable, and I wanted to make sure students felt like they were really learning history and narratives but not like bogged down by me being a strict teacher and getting really into the nitty gritty. And so far the feedback has been good and I think the class culture is generally pretty good from what I can get." 
So, why should someone take African American studies? 
Bush explains this in a well fitted manor, " Black history is American history, and so a lot of us live in a predominantly white world and understanding why some of the major issues and controversies right now and understanding why the world is where it is now, especially regarding race, is a great reason to explore this course and to learn more and to just become a better you. " 
History is somewhat of a controversy in America, mainly because of the white-washed history many students learn. Not only has it been politicized, but it also makes many people feel excluded. For example, a study from Southern Poverty Law Center states that only eight percent of high school students can identify slavery as the central cause of the Civil War in a survey, another statistic states that textbooks in America  have an average of forty-six percent in a scoring guide made by the researchers on how much should be put into textbooks about parts of American slavery. This means that most textbooks don't have enough details of certain facts surrounding stories in the period of slavery. 
 One of the major ways we can get students to understand history is through different perspectives, and by teaching multiple different classes. It makes students better students, teachers better teachers, and along with what Amy Bush said, makes you a better you.