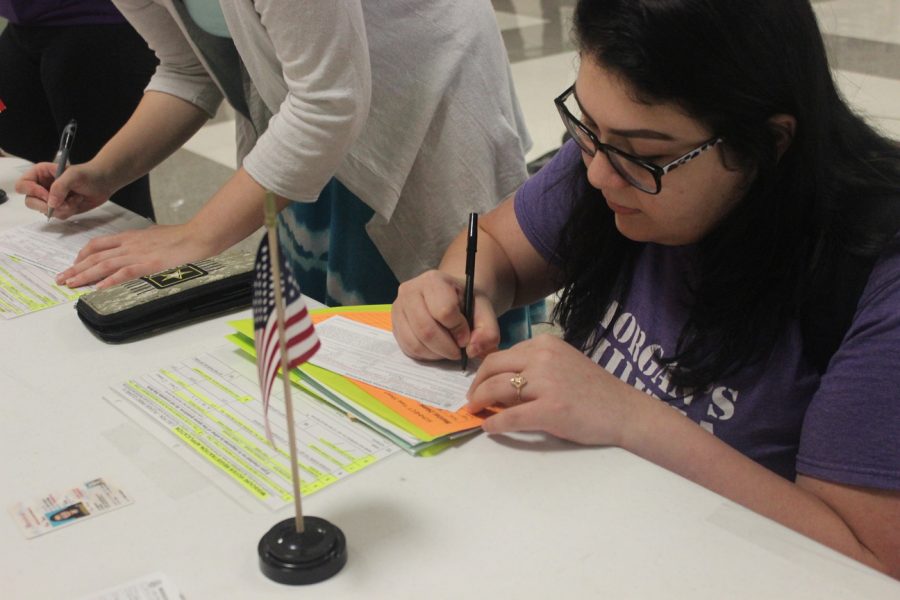 Many high school seniors will be eligible to vote in this year's election, but some first time voters are unsure on how to register.
When registering you have three different ways to accomplish this. The three ways include sending it in by mail, in person, or online.
This is the first year for the election that you are able to register online.
There are certain qualifications that you need to be able to vote. These include being 17 ½ years old to register and being 18 by election day (November eighth) and you must be a US citizen. You also must be registered by October 12th.
In order to register online you will need your driver's license, social security number, and your birthday.  
The website that you go to is sos.mo.gov, from there you click on the tab that says 'register to vote.' You then click the link that says 'filling out the voter registration form.' Next, you answer the yes or no questions and answer whether you are using a mobile device or a computer. If you are registering from a computer it will have you select which country you are living in. It will then bring you to a PDF form and it will give you the option to download and print the form to fill out and send in by mail.
If you are doing it via mobile device, you answer the basic yes/no questions and then fill in the basic identity, mailing address and other contact information and then hit the confirm button at the bottom of the page. Next it will ask you to do your signature using your finger and confirm that you are not a robot and then click submit.
To do it by mail, all you have to do is download and print the voter registration form from the secretary of state website, or call the Elections Divisions at 1-800-669-8683.
To register in person you can either print out the voter's registration form from the sos.mo.gov website or get the form from the library. Next you fill out the form and bring it to the St. Louis County Election Board. The address for this is 12 Sunnen Drive., Ste 126, Maplewood, MO 63143.  
Senior Cameron Kozeny chose to register to vote because it is his right as a citizen and he wants to do his part.
Kozeny also said that he registered to vote by getting a form from the library. For most people, it is not a long process to fill out the form.
"It didn't take long to fill out the form and mail it in."
Registering to vote does not take long and once you register, you are registered for life.
It is important to be able to choose who your leader is and could help you in the future.