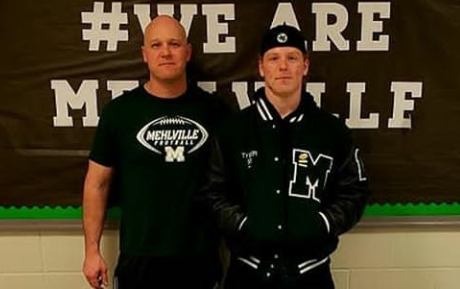 Offensive Position: Offensive Line
Defensive Position: Defensive Line
40-Yard Dash Time: 4.82
Awards and Honors: First Team All-Conference for Offensive and Defensive Line
Tyler has been playing football for seven years now and will be continuing his athletic career at Missouri Valley College.
"Mo Valley just seemed like the best place to be in my opinion," Hemmelgarn said. "They  really make you feel like you are at home while you are there. Other colleges don't talk to you on a personal level but Missouri Valley did."
Hemmelgarn excels on the football field due to his speed and knowledge of the sport. When asked what his favorite part about football is, he had a simple answer.
"It's physical," Hemmelgarn said. "I hope in college I can get bigger and stronger which will make me a better player."
Congrats to Tyler on his commitment and best of luck in his future.
If you have committed to play a sport or activity in college, you can submit an idea for a story or you can email [email protected]