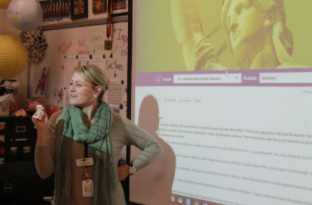 Photo by Kevin Welborn
Inside Out
Who am I? What do my dreams mean? What is my purpose in life? As the school year rages on, Samantha Drier helps kids figure out those three questions through her psychology classes. Drier is a social studies teacher at Mehlville High School. She likes to collect antiques, do crafts, travel, and she is a big fan of cross country. The biggest goal she has right now is to finish her masters degree, which she wants to finish before she turns 30.
A big part of her life is her family. Although she is still in college, she is the first in her family to graduate from a four year university. She is also the first in her family to travel overseas, excluding her father who was in the military.
Drier has been on two large cross country road trips. As Drier looks back, she talks about one of her more exciting cross country road trips with her brother. Along her voyage she saw some of America's greatest landmarks, such as the Grand Canyon and Mount Rushmore. Samantha Drier is not afraid to take risks. "One of the biggest parts was that we stayed in the Grand Canyon and we hiked on this trail called Angel Trail. People said specifically 'do not do this in one day'. so we did it in one day. We were only there for one day so we had to do it," said Drier. They ran around ten miles that day!
Drier cherishes her times away from home, but when she's at Mehlville she strives to do her best.
"I want to be a good person. That is always my driving focus." She works hard to be a good teacher. She also goes on to say,"My whole basement is dedicated to crafts." Which she loves doing crafts. She also urges kids to bring in certain things for extra credit, which is put in her "crafts closet" that is stored for later use.
At the end of the day, Samantha Drier is just a teacher trying to do some good in this world.