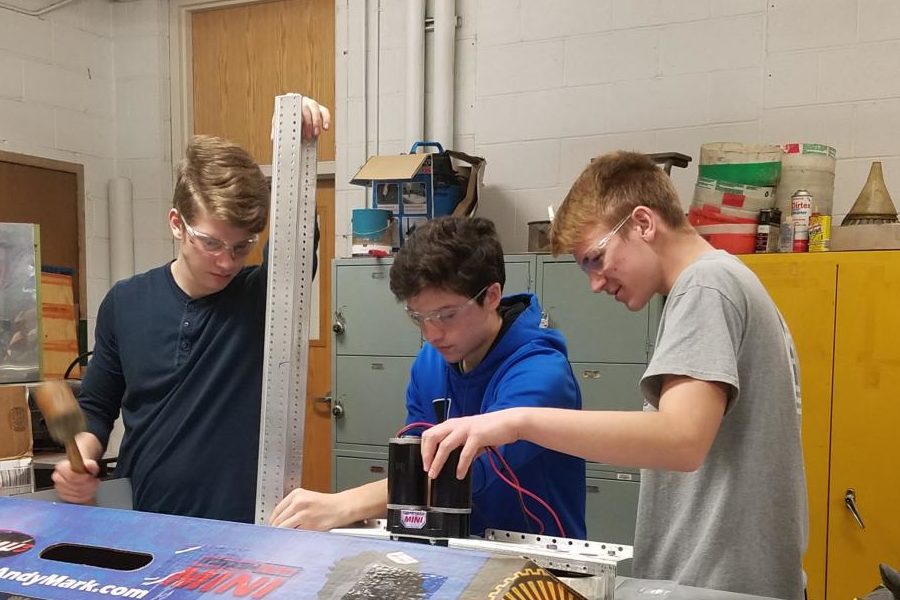 Time Is Not on His Side
Joe Hamlyn is a senior at Mehlville High School. He is in CAPS, robotics, is on the swim and water polo teams and works. For those who are not aware, CAPS stands for Center for Advanced Professional Studies.
    According to the STLCAPS website, "St. Louis CAPS is a multi-district partnership that provides high school juniors and seniors the opportunity to fast-forward beyond college to test-drive their future in high-skill, high-demand professions.
    At CAPS, Hamlyn studies engineering and advanced manufacturing, which teaches basic skills of professionalism. He learns how to shake hands and have a conversation, but also how to build and program robots using vex parts for engineering firms in the area. They are able to work side-by-side other engineers. Vex is a general term for pieces whose primary purpose is to hold two or more components together. An example of this is a screw.
  Hamlyn is also a part of Mehlville's robotics program. For those who don't know, there is an annual competition that allows each school to build a robot to complete certain challenges. They get the information early January. The day they get the game information is their kickoff day. They have six weeks to design, prototype and build a functioning robot.
    "There are multiple aspects to the games every year, your robot could shoot a ball or have to go pick something up and move it to a different location. So you have to build your robot to play a certain aspect of the game," says Hamlyn.
    Each school forms an alliance with two other teams so you have a group of three different teams. Each set of three goes up against each other to score the most points.
    "We look at the game, analyze the rules and ask what can be done and what we want to be done."
    They have to decide whether they want to tackle one aspect of the games or all aspects. Once the design is done, they have to start prototyping the robot to do what they want it do do. They make things out of wood and cardboard until they know what will work and then they start building it out of aluminum. What normally takes several weeks to build is being built in two to three weeks for the games.
    "There's multiple days where we're here for eight plus hours building a robot," said Hamlyn.
    This is Mehlville's second year doing this program, but they are going in with a state robotics title they earned last year.
    "This year is going a whole lot better. Last year we signed up last minute and everything was very last minute. This year there is more planning going into it. We have a pretty good idea of what we need to do."
    Hamlyn also does swim and water polo. He and three other people went to state during this year for the 200 freestyle relay. Mehlville got 18 out of 32 out of the entire state.
    Despite the work that Hamlyn puts into robotics, he also enjoys traditional sport, especially water polo. Prior to water polo, Hamlyn had not learned how to swim. He learned in less than ten months how to tread water and swim the length of the pool. Hamlyn played goalie for the water polo team, although the goalie has to be the best treader on the team. Hamlyn has done just about every sport you can think of.
    "I played baseball, soccer, softball; I even played rugby for a little bit. I did everything. I used to shoot competitive trap with shotguns, but I didn't find what I really loved until water polo," said Hamlyn.
    By the end of the season, he had 187 saves and was tied for eighth in the state for most saves. Lindenwood University, a division one national championship team, has given Hamlyn a spot on their team.
    With as busy as Hamlyn is in his everyday life, he still has homework for classes and he still needs to get it done. There just isn't enough time in one day for Joe Hamlyn.