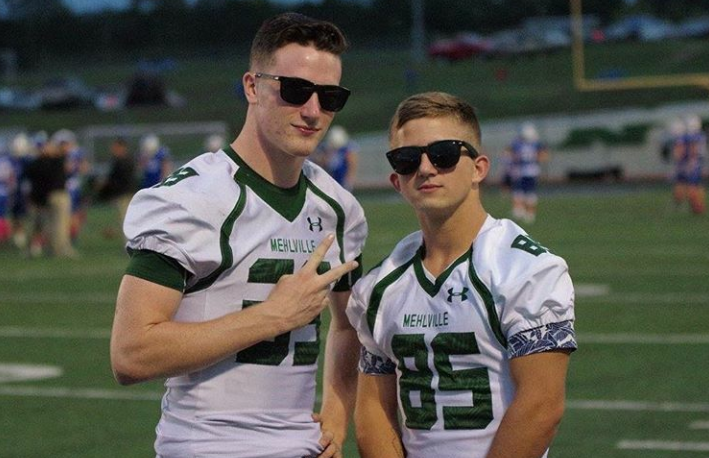 Photo by Photo Courtesy of Steven Haverstick
A Desire, A Dream, A Vision
A tri-athlete. An older brother to three siblings. This is Humans of Mehlville.
This 16-year-old sophomore plays football, runs track and field, and wrestles. His name is Steven Haverstick. Haverstick loves to work out and train for his sports so he can be the best on the field at all times.
One would think all those sports take a toll on his body, but he prepares every time before a workout.
Haverstick said, "First you do 30 minutes of stretching just to get the blood pumping and then you do a light workout, then get into your actual workout."
Apart from having a great work ethic, his stats speak for themselves in the sports he plays. He scored a 90 yard kickoff return touchdown on the last game of varsity football, As a sophomore, he was most likely going to run varsity track before tearing his meniscus and he wrestled on varsity and junior varsity as a sophomore.
Haverstick does not lose his motivation is by looking at a quote he has on his wall saying,
"Champions are made from something they have deep inside them, a desire, a dream, a vision. They have to have last minute stamina, they have to be a little bit faster, they have to have the skill and the will, but the will must be stronger than the skill."
He loves this quote because, "I am always getting injured and when I see this quote on my wall, it inspires me to continue to work and not give up."
He has had his fair share of injuries, he tore his meniscus in his left knee twice and has had two confirmed concussions. Even through all this, Haverstick has never given up his love and passion for playing sports.
His brothers Wyatt, Daniel, and Fallon are twelve, ten and two respectively. When he is not lifting weights, he is watching his brothers and making sure they do not get into trouble.
Steven Haverstick embodies what it means to be a hard working athlete and someone who pushes themselves to their very limit.