One Location, Two Floors of Terror.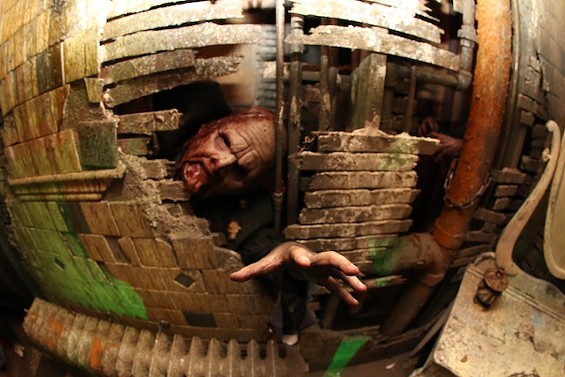 Enter The Darkness Haunted House at  your own risk, that's if you can handle it. 
     The Darkness is open Friday-Saturday from 7-11:30 and on Sunday from 7-9:30 and is located on 1525 S 8th St, St. Louis, Mo 63104. 
     The Darkness was featured on Mythbusters, Wall Street Journal, and National Geographic, among other outlets. 
     The Darkness is one out of the seven features of different attractions made for the spooky season in Saint Louis, Missouri. Via the trailer on their website, The Darkness is deemed to be "America's scariest haunted house," and I decided to check it out myself. While at The Darkness, you can expect to experience very loud audio, spooky fog, movement from the floor platform, special effects, and of course, terror. It is an intense and physically demanding environment.
     Things to know before you visit, The Darkness does not require a waiver however, you cannot touch others such as actors and other customers as well as the props inside the attraction. Neither video or flash photography is allowed either. And of course, smoking, running, eating, and drinking inside the attraction is prohibited. 
     The Darkness issues a warning that if you suffer from medical conditions, mental, physical, and respiratory problems, you will not be permitted to enter. 
     As far as my experience with The Darkness goes, I loved it! To begin, I thought the props themselves went really well with the overall theme of the attraction. You can tell that there is a lot of attention to detail and time spent planning on selecting the perfect props that looked so realistic. The reality of the props had also amazed me to be honest. 
     Next, I thought the actors were a 11/10 on the scares, the makeup, and their costumes! A lot of the actors featured in The Darkness were able to scare me. I recall feeling my heart drop endless times, clenching my fists, and closing my eyes a lot throughout the haunted house. I also screamed various times as I made my way throughout the haunted house.
     It wasn't at all what I was expecting, it was so much better! If after reading this you happen to be interested, tickets are available at thedarkness.com.