New Business Teacher Exemplifies Leadership
A new teacher at Mehlville High School took the long road to teaching, taking many different paths in his life that lead him to this point.
Seth Kirchhoff is a marketing and business teacher at Mehlville as well as the sponsor/advisor for DECA.
Kirchhoff has a Bachelor's degree in Business Administration from Central Missouri State University and two Master's degrees from Missouri Baptist University. 
Prior to teaching at Mehlville, Kirchhoff had the opportunity to work part-time at Lindbergh for one year. 
So it comes as a surprise that teaching is actually Kirchhoff's fourth career path he has had.
For several years before Kirchhoff became a teacher, his full-time job was through his custom furniture business, Kirchhoff Tables.
¨I do all kinds of woodworking jobs, but specialize in custom dining tables. Keepsake boxes and humidors seem to be increasingly popular too,¨ said Kirchhoff.
His furniture has found its way through St. Louis, being sold around town, shown in newspapers, magazines and blogs.
¨I'm probably proudest of some pieces I have in a museum in Iowa. Making furniture for a St. Louis Blues player and having him help me carry it into his house was pretty cool too,¨ said Kirchhoff. 
The business has become a side-hustle for Kirchhoff and before this business, he worked multiple other jobs.
¨Before my furniture business I worked in government contracting and corporate project management. And before that I spent a decade in the Army,¨ said Kirchhoff.
The army was a defining experience in Kirchhoff´s life, with experiences that are unique to the service. 
¨It taught me about hard work, teamwork, discipline, performing under pressure, how to handle adversity, how to be calm during a crisis, and so much more. But I think the most impactful thing it did was give me perspective. When you spend time in third and fourth world countries, or get shot at and blown up, it makes you more grateful for the life you have¨ said Kirchhoff. 
At his core, Kirchhoff describes himself as a Father, a Teacher, a Veteran, and a Business Owner, all in that order. 
¨I became a teacher because I felt like it would be a good fit for the life I want to live. I'm also passionate about Leadership¨ said Kirchhoff.  
Kirchhoff believes that at the core of good teaching should be leadership, which shows in his teaching style, conversational, collaborative, story-heavy, real-world, and project-based. 
¨Helping the people around me be the best version they can be is what gets me up in the morning. My goals are simple – I want to live a happy and productive life!¨ said Kirchhoff. 
Among his classes, Kirchhoff creates a welcoming and fun environment, while students also learn more about marketing and business. 
As for the year ahead, Kirchhoff is excited to be a part of the Mehlville family full-time. It has been difficult to feel connected through the computer screen.
¨I am super stoked about getting students back in the classroom. My job as a teacher is to grow students into leaders and help guide them for the short time they're here," said Kirchhoff.
Leave a Comment
About the Contributor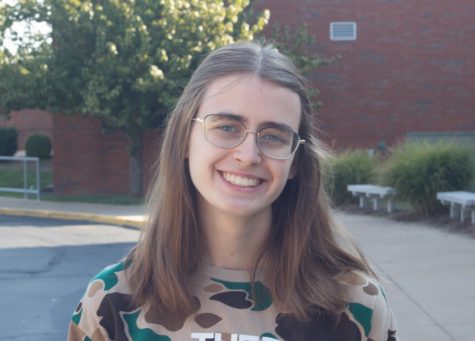 Amna Nukic, Editor-in-Chief
Amna Nukic is a senior. She has been involved with the journalism program since her sophomore year and enjoys writing. Other than writing, her other interests...