The Return of "The Boss," and more importantly Rock & Roll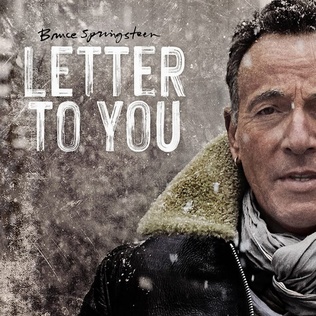 Bruce Springsteen/Vevo
On Oct. 23, Bruce Springsteen, otherwise known as "The Boss" released his new album, "Letter to You." This album marks his first time back with his original band, "The E Street Band," since 2014.
Bruce is a famous Rock & Roll artist who began his career in 1972. He has made many records, such as "Born in The USA," "Born to Run" and "The River." These albums include songs such as "Hungry Heart," "Born in The USA," "Dancing in The Dark," and "Born to Run." 
The album is full of heart, as it tells the story of Bruce and the band, from their original days together in New Jersey, to traveling the globe on tour. It's your classic rock sound, with chiming piano, the deep growl of Bruce's voice, throbbing bass, and driving guitars. But this album is more than an exceptional memoir and Springsteen's return, it's the return of a genre long thought dead.
Rock and Roll, with its long history, sharp exterior, and blasting volume have in recent years fallen to the wayside in the mainstream. Sure you still have your classic artists like Joel and McCartney touring, but rock didn't dominate the radio and streaming like it used to. 
It was not until this year, that many rock artists and the genre itself have gained more prevalence. Bruce Springsteen released a new album, ACDC released a new album, The Rolling Stones released a new single and announced they're working on a new studio album, with original work,  when it's been 15 years since the last. Paul McCartney himself announced a new album in the works, Rock & Roll has made a comeback, and it's a big one. 
This return is a blessing, as it's a filling of the void all Rock & Roll fans have had since the genre lost its standing. And it's a break from the monotony and cloned pop music that has dominated today's music charts. Rock & Roll is authentic, it's real, it's live and it's in your face. 
You can hear the drums pounding, the guitar blasting chords out, and the singer belting their story of loss, love, life, and adventure. Rock & Roll isn't about hearing, it's about feeling. About being able to relate with someone and their experiences, about having music that isn't just music. It's not music, Rock & Roll is a lifestyle, and it's a feeling that no other genre can recreate.
There's a reason that I spend my time surrounded by Rock & Roll, that being not only what Rock & Roll means but my dad. He raised me on the music of his time and what he lived through, and it's because of that I'm so involved with the music. My dad likes to remark on how every song he hears brings back a memory, a time in his life, and the power of Rock & Roll is that ability to reflect, to revisit. 
So I ask of you, whoever may be reading this, to listen to Bruce's new album. Or any of his old albums, or any album that's ever fallen under the category of Rock & Roll. Not just for my sake, but for yours.