Wandavision: A Mysterious Trip into the Marvel Universe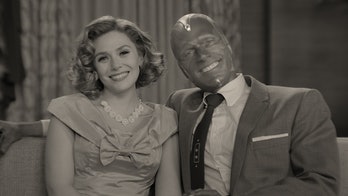 After the end of The Mandalorian Season Two on Disney Plus, viewers began to wonder what other content was available for them to view on the streaming service. Thankfully, the almighty billion-dollar company that is Disney answered with Wandavision, the first of many new Marvel Cinematic Universe shows to be arriving on Disney Plus.
Wandavision takes place immediately after the events of Avengers Endgame and is a tale centered on Wanda Maximoff and Vision, played by Elizabeth Olsen and Paul Bettany respectively, two main characters from the series of films.
The show offers a weird look into TV sitcoms, and every episode takes place in a different era, beginning with the 50s in its first episode and jumping a decade every following episode. Vision and Wanda change along with reality, and believe it or not, Vision is participating in this mystery.
Somehow Vision is alive after his untimely death at the hands of Thanos in Infinity War, and things are ultimately not as they seem with this story.
As of writing, the first four episodes are currently available to watch, with the remaining releasing weekly every Friday just like The Mandalorian.
The first two episodes seem like a happy go lucky sitcom about a husband and wife, but as the episodes go on, things begin to seem more mysterious and dark. People reach out to Wanda, asking why things are happening the way they are and in episode four a dropping of the curtain occurs.
While the show has incredibly high production value with a million-dollar budget and an intriguing story, the show is receiving negative reviews due to some critics not understanding the show and its delivery. The show hasn't been what some expected after Marvel Studio's latest release, Spiderman Far from Home and its wacky setting throws off some audience members.
I was at first thrown by the show but I quickly regained interest because I believe as the show ends and the remaining episodes release, the show will have been more than worth the watch.
As I and the rest of the show's dedicated viewers eagerly await more episodes, more and more theories will continue to be made, and more episodes will change everything. Hoping it ends with a satisfying conclusion to tie everything together, I give the first four episodes a 9/10.
Leave a Comment