Devastating Texas Winter Storm
The midwest was hit with a powerful snowstorm around Feb. 20, Texas got the worst of the storm. The storm knocked out power and soon after people got their power back, pipes had burst and their tap water ran dry. 
     The storm also delayed the delivery of vaccines to several states, including Texas, and caused a shortage of food at some grocery stores. 
     This storm led President Biden to sign a major disaster declaration that provided government funding for Texas. This storm was hard on people in Texas because almost 4million people didn't have power and electricity and we are still going through COVID.  Some people may not be able to leave their houses to stay at a hotel or another family member's house because of concerns of COVID. 
The power outage was due to the power plants not being ready for the freezing temperatures. Production froze, and so did pipelines that transport gas. The problem got worse as people kept turning up their heat increasing the demand for natural gas. Stephen Love, who is a DFW Hospital Council President and CEO says in an interview, "Texas was hit pretty hard, some of the hospitals experienced some power problems and some water problems." This caused problems for people coming into emergency rooms for non-emergency reasons. It made it harder for hospitals to care for people, which led to a man dying when he was unable to get a dialysis treatment that requires large amounts of water. 
58 people died in this devastating storm, they either died from hypothermia, house fires, drownings, and car crashes. The storm impacted Texas tremendously and left behind a lot of damage. Many people are helping out by donating to food banks and donating others like gift cards and supplies for short and long-term needs.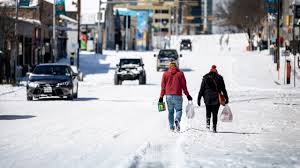 Leave a Comment