Art Club Offer Creative Space for Artists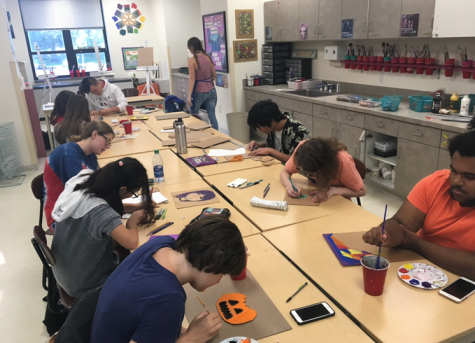 Art Club is a fun and interactive club at MHS where students take a deep dive into all things art. Club sponsor Emily Wehling, a teacher and creator of art, explains what the club entails.
"Art Club is open to all MHS students interested in learning more about art, or having time to create. I usually demonstrate some art technique or media and introduce a small project," said Wehling. 
Members are given projects to work on as a team, but Wehling also inspires students to invest in their own style of art. Usually there is a theme based on the season, but sometimes they work on community outreach projects as well (like making cards for local healthcare workers). Students have the rest of the meeting to socialize and work on their own project.
Art Club also invests time in fun, artistic traditions. Wehling shares a favorite group activity, which is creating a new t-shirt design each year. 
"Last year we dyed them with bleach, which was really fun," Wehling said.
In the winter, the club usually hosts a 'painting party' fundraiser and uses the money to take a trip in the Spring. Unfortunately, due to COVID-19, this has been on hold for the past two years. 
The club meets in room 346 on the second Wednesday of the month after school until 4:30. Wehling is always open to new members looking for an imaginative outlet.  
"It's a low demand club, and I encourage anyone to come when they can. Anyone is welcome anytime that they can make it," Wehling said.          
Art Club is a space for self expression and a great way to connect through art. "It's a great opportunity to make new friendships and have some fun. It's a free way to be creative and get involved at MHS," said Wehling.
Leave a Comment
About the Contributor
Layla Weaver, Opinion Editor
Layla Weaver is a student writer for Mehlville Media. She is a senior in Journalism II this year and works at TJ Maxx. She enjoys art, music, reading,...