A Burger for a Firefighter: Firehouse Review
American grills are some of the most popular restaurants in the country. The American burger, fries, and a large soda is one of the most iconic meals that many people in the States can come up with. But few grills actually stand out, and Firehouse Bar and Grill is one of them. But when the pandemic hit, many places had to shut down, or did what Firehouse did, which was Pick-up service.
The grill is just right down the street from Mehlville High School, with it's big red sign showing a firefighter's helmet standing out to the public. It opened a few years ago, and honors the firefighters from now and from the past. In fact, if you are a firefighter, police officer, military officer, 9-1-1 Service Provider, or an EMS then you get 15 percent off. The restaurant is located at 3500 Lemay Ferry Road, St.Louis Missouri 63125. The Grill usually opens at 11 a.m. and closes either at 12 a.m. Sunday through Wednesday or 1 a.m. Thursday through Saturday. Dine in, curbside pickup, and delivery are all open during these times.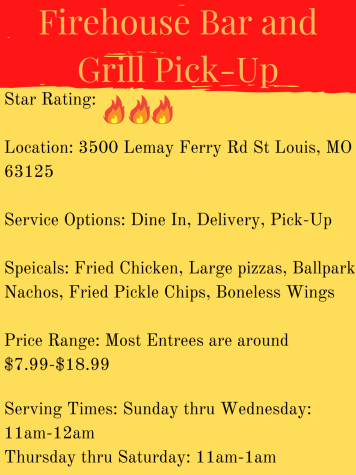 The menu is a glorious list of juicy burgers, fresh salads, fried and grilled chicken, savory sandwiches, and cheesy pizza. Not to mention craveable appetizers, all of which are incredibly mouth watering to look at! The price range is also manageable, with most entrees ranging between a good $7.99 to $18.99.
The Philly Steak Sandwich has sliced steak, juicy and tender, topped with peppers and onions that are grilled, and Swiss cheese and mustard to top it all off. The veggies, cheese, and meat are put in between two slices of Italian bread.  With the sandwich put together, it has a savory taste with a hint of sour mustard, and the bread has a slight crunch. Put all this together, you get a perfect sandwich for Philly cheese steak lovers. This can be sided with fries, which are large and are just a bit soggy. The seasoning is just perfect though, a bit sweet and salty. 
The Black Bean Burger is a bit of an interesting case. A burger made of black beans and corn, it doesn't have a lot of seasoning and the texture is a bit odd. The toppings are still delicious, crispy bacon, lettuce, tomato, red onions, pickles, mayo and mustard, but the burger puts it off a bit. 
A highly recommended side is the onion rings, fried to be crispy. They also come in a basket, and are big enough to share with others. They also come with a creamy sauce to dip them in that makes them even better. 
During the pandemic many restaurants decided to start doing pickup orders to help keep business running, and this was also the case with Firehouse. Pickup ordering was a bit of a struggle, to say the least. They got one of the orders wrong, the Black Bean Burger was supposed to be a Black and Bleu Burger, but when called, they did say that the customers could come in and get the burger for free. 
The actual take-out boxes were also covered in condensation. When opening the box, your hand would get wet and so did some of the food. But the wait wasn't too bad considering it is more of a dine in place, so it's really up to the customers on what they want to do.
For more information go to the Firehouse Bar and Grill website. 
Leave a Comment
About the Contributor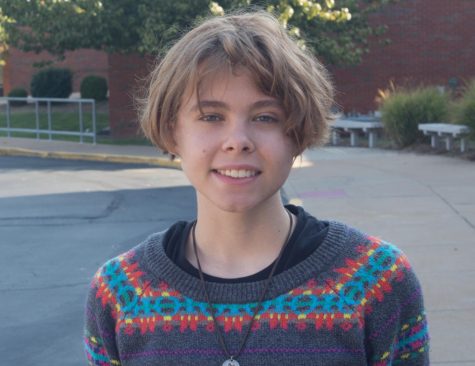 Mya Williams, News Editor
Mya Williams is a senior at MHS, and is one of the reporters for Mehlville Media. Her hobbies are reading and hiking and being a part of theater productions....