Is BTS worth listening to?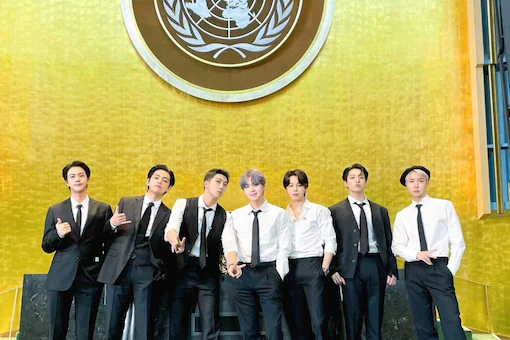 The Korean pop band BTS (bangtan sonyeondan) debuted in 2013 and has now risen quickly with fame. They debuted with their song "No More Dream" and have now reached the top of their careers. They have beaten records that were originally owned by Michael Jackson and The Beatles. They have performed and spoken at the UN. As individuals, they are inspiring, but their music is even more inspiring. 
Their first album, "2 Kool for School" represents youth and has a bit of an edgier concept, but focusing on the most popular song from that album, also their debut song. No More Dream. No More Dream sends a really good message. The members sing about their dreams and how parents, society, and everyone looks down on people for not following the path that was given to them. BTS instead encourages the younger generation to follow their own path and dreams.
We see this rebellious theme continue through their earlier years, in a different album that was produced in 2014 "O!RUL8,2?". Again focusing on the more popular songs of the album, the song, "N.O". They talk about parents forcing their children to be what they want them to be. "Even if we think simply, it's the survival of the fittest. Who do you think is the one who makes us step up on even our close friends to climb up." 
They continue to go on about what they want to do and even talk about mental health. One of the members, RM, who happens to also be the leader, talks about feeling like a puppet and that when he was younger the only interesting thing that kids could talk about was studying.
Another album made in 2014, "Dark & Wild" is a bit more mature. They talk about going through puberty. In the song Cypher, Pt. 3: killer, that only has the three members in it, the rap line. Which consists of RM, Jhope, and Suga is kind of an insight on their personalities. Each of the parts has a different kind of tone. Suga is a member who is very open about himself. He has come out as a part of LGBTQ+ and even talked about it in the rap song. This song is also kind of silly because Jhope talks about how many girls call him and makes some beeping sounds.
Getting more into their lyrics. In 2016, they released an album titled "The Most Beautiful Moment in Life: Young Forever." Specifically in "House of Cards," despite the song's seductive beat, the song talks about being in a toxic relationship and feeling like you can't leave. They talk about how as time goes on in this relationship becomes worse and worse.
In their song Autumn Leaves, they also talk about a romantic relationship. They use metaphors like "Dry leaves come down like tears," and refer to the romantic interest as the last leaf on a tree, and they are kind of like begging the last leaf not to fall.
They do have more comedic songs like "Converse High." It's an inside joke. RM, the leader of BTS, said that he would love to see his romantic partner in a pair of converse highs which is strange. In the song, I will admit it has a mature theme. One of the members, Jhope, said he would love to the stars on Rm's partner's shoes without him knowing. Implying that Rm's partner cheated on him with Jhope.
They have a total of about 20 albums, but that's including singles and albums BTS have remade in a different language. They represent feminism, mental health, LGBTQ+ and a lot more. At the UN speech, they encouraged getting vaccines to 1 million tuned-in people. They have a lot of different styles and have tried out a lot of different music genres. 
They have been recognized by a lot of western artists. They have done some collaborations with Charlie Puth, Megan Thee Stallion, Coldplay and Nicki Minaj. If you do give them a listen, prepare to cry to songs like "Don't Leave Me (Face Yourself)," and "Filter (Map of the soul: 7)." I highly suggest giving them a listen. Rating out of 5: 4/5.
Leave a Comment