Ditman Aids Athletes from the Sidelines
Mehlville High School takes a lot of pride in its outstanding athletics teams. From Friday night lights to early morning cross country meets, one person is always there for every match to ensure that athletes are ready to play.
Since August 2020, athletic trainer Claire Ditman has been the backbone for the Mehlville Athletics Program. With her extensive background in athletic training, she offers athletes services such as bracing, taping, icing, rehabilitation, and injury evaluations. 
After receiving her masters in Athletic Training from Saint Louis University in May 2020, she started working for Mehlville almost three months later. But, Ditman's career could have been a lot different. 
"Growing up, I wanted to go to med school and do sports medicine or orthopedic surgery. When I got to med school, I realized that I liked the aspect of being more on the sidelines and at practices. Having one-on-ones and seeing the athletes every single day was more important than just seeing them when they had a big injury or needed surgery," said Ditman. 
For Ditman, athletic training is a way for her to connect with athletes on a more personal level. 
"Being on the sidelines and being with the kids, you kind of have a relationship with them and you know them as more than just the kid with an injury," said Ditman.
Through her training, Ditman has had the opportunity to work with Parkway West, Lindenwood University, Saint Louis University, Saint Louis FC and the St. Louis Battlehawks in clinicals. She is currently employed by Mercy. Mehlville High School was her first independent job after graduation. 
Since starting at Mehlville, one of the biggest challenges Ditman has faced is time management. 
"Making sure everybody is ready and on time for practices or games is super important. If we have three or four games going on at the exact same time, things can get a little crazy," Ditman said.
Time also plays a big role in Ditman's day to day responsibilities. Her job doesn't actually begin until the school day ends. Most nights, she can be found at Mehlville overseeing games until the last event ends.  
"It's not for everybody and it's demanding, there can be some long days," Ditman explains. 
Ditman's role as an athletic trainer has helped Mehlville athletes reach their full potential. Her compassion for others, extensive training and positive attitude has left a positive impact on those around her.
"Don't get me wrong, it's fun when everyone wins, but what is usually the most fun is the kids and seeing their personalities and them having fun," said Ditman.
Leave a Comment
About the Contributor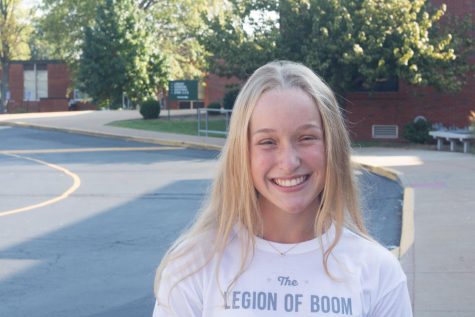 Taylor Kordik, Director of Public Relations
Taylor Kordik is a senior at Mehlville High School. This is her first year in journalism. She is involved in Student Council, Senior Exec, Konnect Mentoring,...