Best Baseball Movies Of All Time
America. Land of the free, and home of the Braves, Dodgers, Yankees and Cardinals. One of the most unifying things in the United States would have to be sports, and with that, their movies. These five baseball films deserve a spot in the cinema hall of fame. In no particular order, let's count down the five best baseball movies of all time.
5.) Top of the lineup is "Rookie of The Year." Little league loser Henry Rowengartner (Thomas Ian Nicholas)  lives the life millions of young baseball fans dream of. After the breaking and unusual healing of Rowengartner's pitching arm, he has the ability to throw consecutive fast balls. He finds himself pitching for the Chicago Cubs in place of grizzled old pitcher Chet Steadman (Gary Busey). A team notorious for their constant loss is putting all of their hope in one 12 year old who's track record isn't too promising
4.) Good movies get remembered, but great ones never die. One of the greatest and most quotable baseball movies of all time is no other than "The Sandlot." With one liners like. "You're killin me Smalls" to the many nicknames of Babe Ruth, it's impossible not to weave these short sayings into your casual conversations. The Sandlot recognizes the true importance of childhood friendships and baseball. This feel good film will be in the history books "For-ev-ver…"
3.) "A League Of Their Own" has everything you could ask for in a baseball movie. A feisty catcher, a snotty little kid, an emotional pitcher and…Madonna. Set in the 1940s, women are urged to trade their oven mitts for baseball gloves after many of the men were drafted in WWII. Dottie Hinson (Geena Davis) is a star player, and gives washed-up drunk coach, Jimmy Dugan (Tom Hanks), a run for his money. 
 2.) "A Field of Dreams" has and will always be regarded as one of the greatest baseball movies of all time. For good reason of course! I mean how can you go wrong with actors like Ray Liotta, Kevin Costner and James Earl Jones? That scene with all of the baseball players walking out of the cornfield will never fail to give me chills. This feel good film deserves all the praise it receives. 
1.) Rounding out our top 5 countdown is "42", the Jackie Robinson biopic. The issue with biographical films like this one, is finding someone who will honor their character while simultaneously delivering an interesting performance. Luckily, the late Chadwick Boseman stepped up to the plate, and needless to say, he hit it out of the park. His performance was gut wrenching, triumphant and inspiring. It's everything you would want in a story as heavy as this one. Though Boseman and Robinson are no longer with us, both of their performances will live on forever. 
Leave a Comment
About the Contributor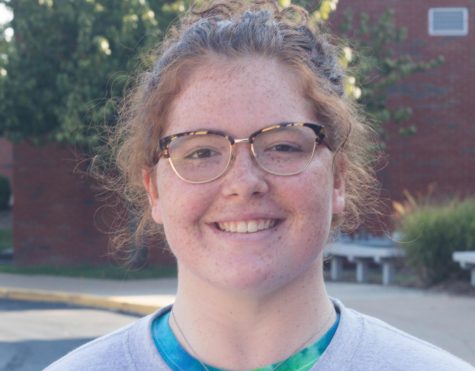 Grace Potter, Producer & Webmaster
Grace Potter is a senior who wishes to pursue music journalism as a career. She can be seen leading the alto saxophone section in the marching band, or...