U.S. Government Class Spreads Cultural Awareness
A cultural awareness campaign has been blossoming here at Mehlville. Posters line the hallways of the second floor all highlighting the different cultures within the student population. 
The posters promote the Culture Club, sponsored by Social Studies teacher Daniel Lamping, and the Black Student Union, sponsored by English teacher Regina Gleason.  
However, unbeknownst to many, they are the result of a project in Abigail Makowsky's U.S. government class. 
Makowsky's focus for her government class is on implementing something called the three C's. 
"The three C's stand for college activist, civic activist and career readiness. The goal is to get kids prepped and have the skills to either go the college route, to go the career route and to either way be a civic activist" said Makowsky. 
In their first project of the year, the class looked at different types of power in government and how governments can be set up. 
The unit centered around an overarching question, 'what does it mean to be powerful?' and each lesson focused on that question. 
"The final step of those C3's is to use everything you just learned to take action," said Makowsky.
This is done through one end of the unit project. 
"They found that they wanted to use this powerful question to do an empowerment campaign at Mehlville, which is where two of my three government classes came up with the idea to do cultural awareness posters to hopefully empower those cultures that exist in Mehlville," said Makowsky.
The posters include but are not limited to recognizing Albanian culture, Hispanic Culture, Asian Cultures, Black Culture, and more.
Each student in these two government classes made individual posters highlighting a cultural community they wanted to raise awareness to. 
"Part of this was kids felt like there were certain cultures that they were a part of that are underrepresented and so they felt that making their own poster to bring awareness to the culture of their interest would be a good way to enlighten other people about them," said Makowsky.
This was done through data collection, interviews, and any other means to share information about the culture that the student chose. 
Makowsky never saw this project taking the direction that it did and she is excited with the work that was produced because of this project.
"The fact that they chose to do this cultural awareness campaign, I thought that was really cool," said Makowsky. "For me, it's like a proud teacher moment that my kids want to raise awareness to the cultures based on the powerful examples that they saw and how they wanted to be the change-makers that we hope to see."
As for the Culture Club and the Black Student Union, the students who created those posters were a part of those clubs already. 
"When I first saw the posters in the hall, I was surprised and thought that perhaps students in Culture Club created them on their own," said Lamping. "I was further surprised to find they were part of a class, which is awesome."
If students want to take action or are interested in spreading cultural awareness, they are encouraged to join the Culture Club (contact Lamping in room 228 or join with the Google Classroom code 73qae5l) or the Black Student Union (contact Gleason in room 326 or join using the Google Classroom code t2ke27a).
Leave a Comment
About the Contributor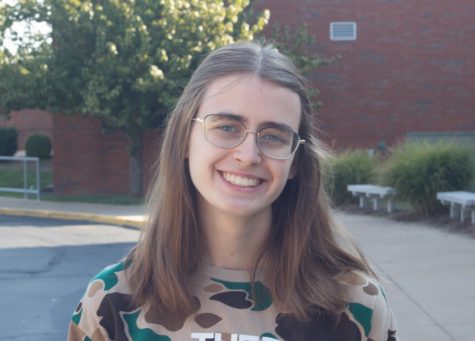 Amna Nukic, Editor-in-Chief
Amna Nukic is a senior. She has been involved with the journalism program since her sophomore year and enjoys writing. Other than writing, her other interests...