Tigers Give Lackluster Results: Is it Time to Panic?
Season Can Be Saved, But Change is Needed.
Halfway through the 2022 NCAA college football season the Missouri Tigers have been disappointing to say the least, but there still is hope for a successful season and future.
The Tigers who compete in the SEC (Southeastern Conference) have compiled a 2-4 record through six games of the season, with their two wins coming against lackluster opponents Louisiana Tech and Abilene Christian.
Their four losses, however, have all come against Power Five teams with three of them being on the road. Road games continue to be a struggle for third year head coach Eli Drinkwitz with him compiling a 2-11 in road games over his two and a half seasons.
Fans are panicking, but as of now there is still no need for panic. Prior to this season Mizzou was not competitive at all on the road under Drinkwitz, as opposed to this year where in every game besides the Kansas State game, where there was bad weather, they have kept the games within one possession. The talent on this roster, which includes the consensus number one high school receiver in the 2022 class Luther Burden III has the tools to compete in the future.
 In a world of college football where coaches are fired left and right Mizzou needs to give Drinkwitz at least one more season to work with his talent. Drinkwitz, when he took over as head coach in December of 2020, took over the 13th most talented team in the conference out of 14. His recruiting classes since he arrived have ranked 11th and sixth respectively. He needs time to develop his talent into competing for division championships again which Mizzou hasn't done since 2014.
The season hasn't had an ideal start and most fans point towards Quarterback Brady Cook being the reason the team keeps losing. Cook, who is from Saint Louis, has passed for 1,217 yards, five touchdowns and six interceptions so far this season. Most people believe there are better options on the roster such as 2021 four star Tyler Macon, and 2022 four star Sam Horn.
Cook hasn't been up to standard. If Mizzou had a slightly better Quarterback than maybe they would be 4-1 and a top 15 team with a win over at the time number one Georgia. This isn't a diss on Brady Cook. He's a homegrown kid, a lifelong Tiger fan, and a very good kid. He just doesn't have what it takes to play Quarterback at the SEC level. With six games to go a Quarterback change can very well change the Tiger's season.
Five of the last six games for Mizzou are winnable. Every remaining game except on the road against red hot Tennessee can be a win. But in order to win these winnable games, the team has some work to do. It all depends on Cook. It's not really a surprise that Cook is below average. Drinkwitz indicated this after he recruited just about every quarterback in the transfer portal season and struck out on all of them. Drinkwitz doesn't want to start Horn because he is trying to redshirt him to save a season of eligibility.
Sam Horn is the obvious long term answer at quarterback. But for now, Eli Drinkwitz needs to hand Tyler Macon the keys to the offense. If he isn't any good either, at least you can say he tried to fix it and roll with Horn the last four games to preserve his extra year of eligibility . But, if he is good the whole perception of the season flips, which could lead to the Tigers becoming bowl eligible for the 3rd season in a row.
As the season reaches its midway point the Tigers have four home games remaining on Oct. 22, Nov. 5, Nov. 20, and Nov. 26.  Faurot Field in Columbia is gonna be rocking, so don't miss your chance to watch the Tigers try and turn around their season.
View Comments (2)
About the Contributor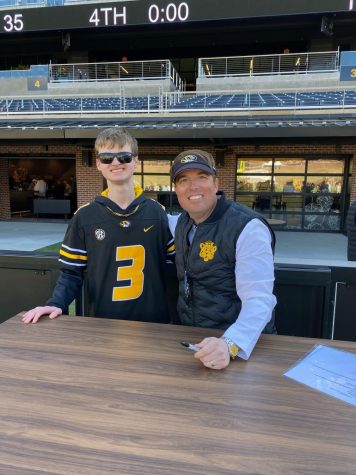 William Parish, reporter
William Parish is a junior at Mehlville. He is a part of the band, and NHS. He enjoys sports. He is excited to write and report during his first year being...