St. Louis Tradition Helps Charity
As winter arrives again, a popular attraction in St. Louis opens once again. Candy Cane Lane is what many people in the area look forward to and have been for many years.
Candy Cane Lane is located right by Ted Drewes and Francis Park and is classified as the whole neighborhood right next to it. Every year the residents of the neighborhood come together and decorate their whole street with lots of Christmas decorations for people to enjoy. Many lights are strung throughout the street and yards are filled with candy canes, snowmen, inflatables, signs, and more.
The visitors begin at the famous ice cream shop "Ted Drewes" and then drive through the neighborhood. Not only is this a cool experience for all the visitors and a fun tradition for the neighborhood and community, but it also is for charity. The residents of the neighborhood use the funds from the event and all together donate to a charity at the end.
Altogether this event is beneficial not only in the aspect of bringing together our community to enjoy something cool, but it also helps out a bigger cause. 
Every year a charity is chosen for the event of Candy Cane Lane. The residents of the neighborhood choose a charity that they believe may need a little extra help. While there may be no entry fee, visitors have the option to make a donation of their liking. They can donate in person, or even online if they choose to.
The neighborhood collects these donations and at the end of the event's season they donate it to the chosen charity. In past years a lot of money has been raised. In 2009 they reached $10,000 in donations and altogether exceeded $200,000. They have raised money for childhood cancer, the Salvation Army, and much more.
Altogether this event is a cool experience here in St.Louis, but it also is a great contribution to charity and our community.
Ted Drewes and Candy Cane Lane Timeline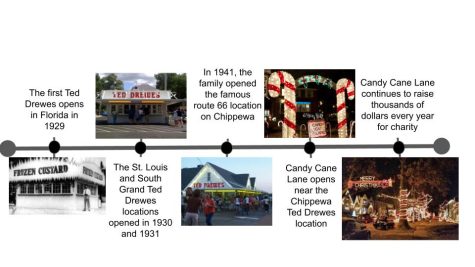 Leave a Comment