Mehlville Alumni Creates New Futsal Team
Abdulah "Ado" Jahic is a professional soccer player and coach who is a former Mehlville High School Alumni. As a product of war, he moved to America at age three with his parents. Jahic started his career playing at local clubs like Scott Gallagher where he played academy.
He played 1 year at Mehlville High School, his junior year where he lead the team to the state quarterfinals with 23 goals and seven assists throughout 21 games. Jahic was once named one of the top 15 must-watch players in Missouri as a top prospect.
He split parts of his college career by playing for D1 schools while also spending time with the Bosnian National Youth Team.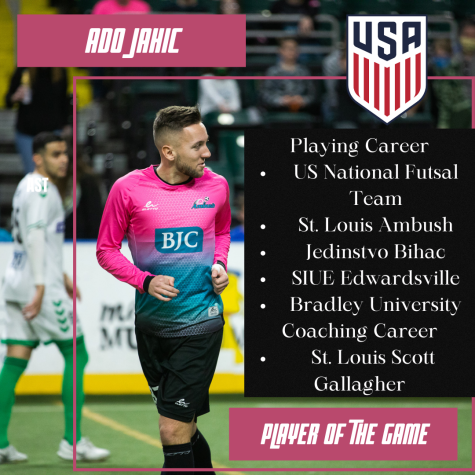 Now Jahic coaches at St. Louis Scott Gallagher SC while playing for the St. Louis Ambush indoor professional soccer team. 
He acknowledges there are benefits to training on a smaller pitch besides the emphasis on footwork.
"I liked small-sized soccer growing up more than playing on the big field. I really don't like running so the smaller the field (so it's) better for me," Jahic said.
His love for futsal soccer grew from when he was a child up until his ventures on the US National Futsal team today.
Futsal soccer is indoor on a smaller floor that sets up a 5v5 battle between players.
To provide more youth with playing opportunities, Jahic created his own business by partnering with co-owner William Eskay to help kids develop soccer foot skills. They train in hopes of creating better technical development for future players.
Leave a Comment