Horizons offers high-quality academics and engaging activities outside the traditional school year. It's not summer school or camp; it's a six-week summer academic and enrichment experience. The Kirkwood School District serves as the host school for Horizons, providing the use of their state-of-the-art facilities, including classrooms, gyms, fields, iPads, etc.
"Horizons is a program created to eliminate the academic gap," said Lakesha Robinson, executive director. "Many of our kids catch up to their current grade level or surpass it."
The organization uses a project-based educational model to promote learning with an emphasis on literacy and STEM. Horizons St. Louis also offers swimming instructions, healthy meals, field trips, arts, athletics, dance, music and sports.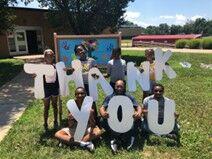 "Our students also participate in certified swim lessons," Robinson said. "Three days out of each week they work with certified swim instructors. We had kids sitting on the sidelines for three weeks who didn't want to put their feet in the water, and by the end of the program, they were putting their heads underwater."
Horizons serves students with a wide range of academic skills, providing them with opportunities to experience success in a stable environment. Students in the program benefit from a 5:1 student-to-teacher ratio which allows for deep connections and long-lasting relationships with teachers and peers. The students also have access to a certified reading specialist and additional professional staff to support them in their journey.
Horizons is funded by people who live in Kirkwood or have some type of connection with the community. When donations are made to Horizons St. Louis, they go towards keeping the program free and all of the things included in the program.
"It's not just a donation — it's an investment in our children's futures," Robinson said.
Learn more about Horizons St. Louis here.
Story originally published in St. Louis Post-Dispatch as part of Old Newsboys Day.