Piskulic Served up Success at State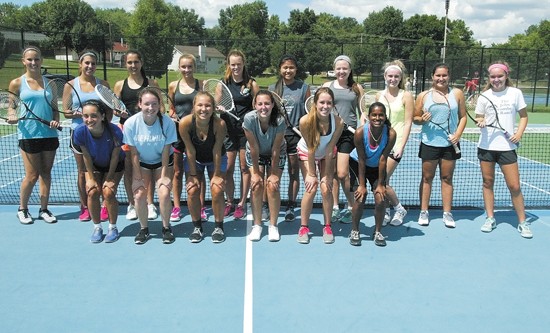 The youngest player on the girl's varsity tennis team is already on top of the game.
      Oct. 16 and 17 Alyson Piskulic, freshman, competed in her first state tournament at Cooper Tennis Complex in Springfield, Missouri. Piskulic had a long run as a freshman on her road to state but fell short in the first round, losing in the third set. Although her state run came up short, the rest of her accomplishments mean a lot more.
During her off season, Piskulic already had her goals in place for what she wanted to accomplish.
"I knew I wanted to go to state," said Piskulic, "I set this goal for myself before the season."
 While establishing herself as a top singles player, Piskulic also had success playing doubles with Junior teammate, Andrea Luzaic. Earlier in the season the successful duo sliced through the Webster tournament, winning all three matches against Rockwood Summit, Nerinx and Ursuline Academy. The connection between the two established their outcome for success.
"She always has a good attitude and playing with her is taking it to another level." said Luzaic.
Along the way, Piskulic had a supporting cast of friends and family cheering her on. A group of teammates also made the trip down to Springfield with her to provide support.
"My friends and family were definitely more enthusiastic than I was for my success." said Piskulic.
Looking toward next season, success is expected for Piskulic. After making it to state as a freshman, the opportunities seem endless for what she can accomplish by the end of her high school career. Much like her 2015 preseason goals, she has high standards for 2016.
"I want us to do better in team competition," said Piskulic, "and I want to finish top four for state."

After the completion of her freshman season, Piskulic was named a second team All-Metro Girl's Tennis Team member, placing her as one the top 12 female tennis players in the area.