Strongman paves way to Success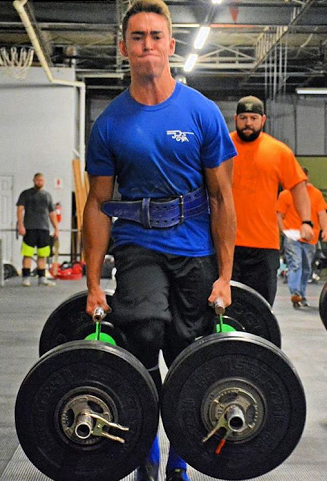 In the midst of winter sports, athletes continue to strive towards excellence on the courts, in the pool or on the mats. Though, one senior pushes himself to the limit in a sport that isn't offered at the school.
    Ryan Benson, senior, spends his nights training to push towards achieving his goal of becoming a professional competitive weight lifter.
     "I started working out because I really never was comfortable with myself and wanted to become more confident physically," said Benson. "It allows me to relieve any stresses or tensions built up throughout the day, at the gym. It also has a great physical benefit."
     About a year and a half ago, Benson moved from the small bench in his basement to JD's Gym.
    "I've been working out with Ryan for a few years. We weren't serious until I found out about JD's Gym and convinced him to join," said Benson's workout partner, Tony Duvergel (Senior).
      Benson and Duvergel have recently taken the next step by beginning to compete in weightlifting competitions in the area. They have endured three Strongman competitions together and are currently training for a powerlifting meet in March and Strongman Nationals in Kentucky for June of 2016.
    "We enter the same competitions and I usually place one behind him," said Duvergel. "Ryan's goal is to be the strongest, and my goal is to make sure he doesn't get too far ahead."
     Benson took home a first place medal for teen lightweights at JD's Gym's Strongman Competition in August. He then went on to win fourth place in the adult men's division and second place in his most recent competition.
     "He works harder than anyone I know and also pushes others to do their best," said Duvergel. "Ryan also has a very high pain tolerance. Even with broken fingers and a messed up back, while most people would take time off of the gym, Ryan keeps working just as hard as always."
      Bensons current one repetition maxes are 230 lbs. in bench press, 400 lbs. in squat and a 515 lbs. deadlift.
     "Ryan is different from the other lifters I know because of the insane speed in which he progresses. He passes all of his goals and recovers quicker than anyone else. This is partially due to how dedicated he is to both his training and nutrition," said Duvergel.
    Benson plans to continue competitive lifting through college and possibly take it further.