¨The Dynamic Ajla Duo¨
Mehlville has many clubs and teams that are easy for students to join if interested. As a school we give a lot of praise to the sport teams such as football, soccer and girls tennis, who are getting a lot of recognition after winning districts this past month.
Mehlville Media decided to shine some light on a team that has proven to be very successful in these past few years. Two seniors in particular went on to represent our school on a national level.
Ajla Babic and Ajla Mujkic, seniors, competed together at districts. After taking second they became some of the few to compete at nationals.
¨I started debating my sophomore year of high school,¨ Babic said. ¨I was motivated and interested in all the topics we discuss in debate. I like talking about current events and I like competing. I am a competitive person. It becomes hard sometimes, trying to find good research and making sure all our research is accurate and the best research I can find. [Mujkic] and I worked really hard on our cases and we persevered. The trip to Alabama was really fun and it was a great learning experience and we are hoping to go back this year and place higher.¨
This year, Ajla Mujkic is the first female head captain in Mehlville history, and she is making an effort to go back to nationals. After being thrown into the debate class her sophomore year, she fell in love with competing and debating against competition.
¨My first ever time competing it was really discouraging because we had to debate against so many good people and everyone judged the way we debated and they put us down in that sense,¨ said Mujkic.
The Ajlas' junior year was where things took a turn though. Being best friends, they decided it would be a good idea and a fun experience to become partners in Public Forum. They went on to compete three times together and got their first trophy together. They persevered through districts and was one of the only teams to go undefeated which sent them on their way to nationals.
The Ajlas are hoping to place and be ranked in the top 60 in the U.S. among the best in our nation. There is no doubt that this duo can do just that. Kathleen Tienes, debate coach and English teacher, has high hopes for the Ajla duo and the rest of the team as well.
¨Learning how to debate empowers you to think for yourself and to think on your feet,¨ Tienes said. ¨You are able to look at sources and information and access whether it´s reliable or not. That is going to help you no matter what profession you go into. I enjoy coaching because I love giving students here at Mehlville a voice in our community. I feel that too often young voices are ignored in our society and this generation has wonderful ideas and they need to be heard and shared. ¨
Tienes has been coaching at Mehlville for six years and has taken three debaters to nationals. Along with the Ajlas, she aided in helping alumnus Tony Smith go to nationals for his junior year of high school.
¨We've only qualified for nationals the past two years and the first year was overwhelming with Tony Smith because I didn't know how to coach on such an elite level. However, this past summer with the Ajlas, I think we figured it out so I'm hoping that this becomes a regular thing for Mehlville to send a few students to represent us at nationals each year,¨ said Tienes. ¨I´m hoping to get the Ajlas back to nationals this year and to take enough students to rent one of those big mini vans.¨
As always, we want to give our support to those who are capable of giving Mehlville a good name such as the Ajlas and the rest of the team. Tienes has stated that she believes she can take many other students on the team to debate nationals including Erica Rawizza, sophomore and ¨Grandma¨ Grace Schmitt, junior.
Nationals this coming summer will be held at Fort Lauderdale along the shore and it would be a great experience for anyone who is able to go there for a competitive vacation. Regardless of whether debaters succeed or even make it to nationals, the future is bright for the Mehlville Debate Team.
About the Contributor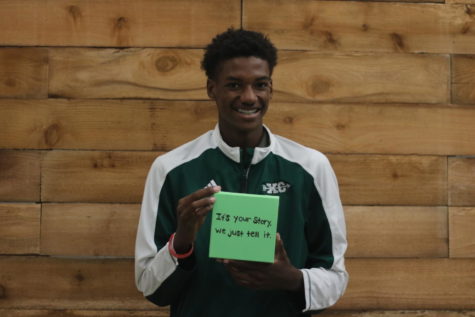 Kaelin Triggs, Managing Editor
Kaelin Triggs is a senior at Mehlville High School. His after school activities include cross country, track & field, and is also a Konnect Mentor....