Can't Burst Her Hubbell
She's on fire, and she'll keep running to the finish line, wherever and whenever that may be.
Emma Hubbell is a sophomore track and cross-country runner. Despite being so young, she's already experienced many successes in her high school sports career, particularly in cross-country where she was just two places away from being top thirty in state and during this last fall season, medalled in every meet she went to.
Beside her talent for running, which Hubbell began freshman year, she has actually been competitively swimming since sixth grade. Freshman year, Hubbell hadn't had much success, winning zero cross-country meets, but she really started to shine during her sophomore year.
"During freshman year, I was not fast at all," said Hubbell, "But during districts of freshman year I ended up being the second Mehlville runner to finish. That's when I was like, 'wow, I could actually do something with this.'"
Hubbell put in the work to do something with cross-country, for sure. She trains in the summer, has her cross-country season, swims and runs on her own in the winter, and then trains with track during the spring. It's no surprise that much work yields amazing success.
One of Hubbell's other motivators for training and competing so hard is simply the rush behind being able to complete a task that is undoubtedly difficult.
"Cross country is a really hard sport," said Hubbell, "Knowing that I can get in those ten mile long runs, it just makes me feel good about myself, knowing that I can do something that most people can't."
Her competitiveness bolsters her success and makes her the force of nature that she is. Despite her love for cross-country, she is also incredibly competitive in swimming and track, as well. Despite her competitive nature, one of the biggest parts of cross-country is just her focus.
"During practice, I run with a buddy or I'll sing songs in my head, but at a meet, I just think about the person in front of me. Nothing really goes through my head."
Hubbell's 5K record time is 19:48. This record was hard earned. Hubbell trains all year round to keep in shape for one sport or another.
Her competitive nature doesn't interfere too much with her relationships, however. One of the reasons that she loves cross-country more than any other sport is because she is able to have relationships with her fellow cross-country runners.
"We all just act like a big family. It makes it really fun to go to practice," said Hubbell.
Family and sport are certainly intertwined for Hubbell.
Elaina Hubbell, a Mehlville alumnus, and Emma Hubbell's older sister, currently holds the 5K record at Mehlville and went to state during her time at Mehlville High School, while running all four years.
"[My family] thinks it's really fun because my sister is in college and we still have a little competition going even though we're not in the same races," said Hubbell.
Not only does her older sister run, but Hubbell's younger brother is also planning to run. Ethan Hubbell will be a freshman next year and Emma is looking forward to running with her sibling.
However, all the siblings are legacies of their father, who also ran in school. Emma's main motivation during her last season was her father, who was deployed into Afghanistan before her season.
"He would go to all my meets. So I knew I had to finish off strong," said Hubbell, "He left in October. So basically the whole season I was just out there doing it for him."
His seven month deployment will come to an end before the next fall cross-country season and Hubbell is excited to share her new victories with him and make brand new ones in the coming year.
As for the future, however, Hubbell isn't exactly sure. She plans to run in college, but, as only a sophomore, she is not looking at too many schools in particular, though she's interested in Lindenwood. For now, she's focused on placing in the state's top thirty and being able to succeed in her next season later this year.
Hubbell will be running during this spring track season as well and during the next cross-country season with her younger sibling. Hubbell is on fire with her cross-country, so the track season is also likely to be interesting. Be sure to catch her on the track this spring!
Leave a Comment
About the Contributor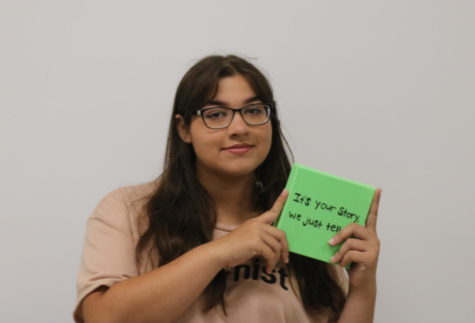 Priyanka Chaudhary, Editor-in-Chief
Priyanka Chaudhary is the senior editor-in-chief of Mehlville Media Student Prints. She is excited to work with her Journalism 2 staff and create amazing...