The Oscars: The Biggest Night In Cinema
Post-Dictions for the 2018 Academy Awards
With the Oscars and all the hype around the year's best films, some can't help but wonder, "what's the point?"
Films matter (arguably now more than ever)  as a way to present strong commentaries on the world around us. They're crucial to our modern ethical understanding of each other. They help us process grief, or escape from reality, all through our connection with others. Good films are designed to challenge perceptions and tell stories that reflect the world around us.
Francis Ford Coppola's 1979 film "Apocalypse Now" was a crucial piece of art, critical of American foreign policy, and an allegory to process the Vietnam War through.
This year, for example, "Get Out," "Lady Bird" and "Three Billboards Outside Ebbing Missouri" all have different messages about the human condition.
"Get Out" turns the struggle of a black man in modern America into a witty horror film, "Lady Bird" shows what it's like to be a young woman at strife with the world through a classic coming of age tale, and "Three Billboards" is a heartfelt tale of grief and tragedy and how we all cope with it.
Films present moral truths about the world through our commonalities as humans.Whether it's "The Avengers" or "Lady Bird," we look to the screens to find someone we relate to and sometimes, their journey can  often tell us more about ourselves than we can.
Best Actress
Nominees: Sally Hawkins (The Shape of Water), Margot Robbie (I, Tonya), Frances McDormand (Three Billboards outside Ebbing, Missouri), Saoirse Ronan (Lady Bird), Meryl Streep (The Post)
Frances McDormand, Saoirse Ronan and Margot Robbie all deserved this award. Saoirse has a history of beautifully reinventing herself for whatever role comes her way, and much like Harrison Ford to Han Solo, Lady Bird McPherson is the perfect marriage of actor and character. Margot Robbie also showed a strong commitment to playing cultural iconoclast Tonya Harding. Frances McDormand delivered one of the more believable and beautiful performances of the year, coming off as honest and endearing. Unsurprisingly, she won the award.
Best Actor
Nominees: Timothee Chalamet (Call Me by Your Name), Daniel Day-Lewis (Phantom Thread), Daniel Kaluuya (Get Out), Gary Oldman (Darkest Hour), Denzel Washington (Roman J. Israel, Esq.)
Most of the attention before the awards show went towards Gary Oldman for best actor. For many, when Oldman won best actor for World War II biopic, Darkest Hour, it was no surprise. His Oscar was less about this performance specifically, but more about his career as a whole. Some have nicknamed it a "lifetime achievement" award.
Best Picture
Nominees: Call Me By Your Name, Darkest Hour, Dunkirk, Get Out, Lady Bird, Phantom Thread, The Post The Shape of Water, Three Billboards outside Ebbing, Missouri
Every Best Picture nominee (and then some) this year, is strong. The major buzz this year, was around "Three Billboards Outside Ebbing, Missouri" and "The Shape of Water." Both of these pictures stole the show at the Golden Globes in January. As I predicted, "The Shape of Water" won Best Picture. It paid homage to classic cinema, and struck an emotional chord with the Oscar voting block with its touching love story. "Three Billboards" is better liked by the viewing public, as it has an 8.3 on the IMDb, while "The Shape of Water" sits at a 7.6.
Blade Runner 2049
This year, many people noted the absense of the film Blade Runner 2049 in the Best Picture category. Although not a commericial success, Blade Runner was a critical one. However, it has recieved somewhat of a cult status in the months since its release. It currently sits as the 156th highest rated film of all time on the IMDb (Internet Movie Database) and entertainment company, "Funhaus" even described it as "The best sequel of all time." Even though it isn't nominated for Best Picture, it didn't go unnominated, it was nominated for 5 Academy Awards and won Best Cinematography and Visual Effects. It's widely regarded by its fans as one of the best and most beautiful films of the 21st century.
Best Cinematography
Nominees: Blade Runner 2049 (Roger Deakins,) Darkest Hour (Bruno Delbonnel), Dunkirk (Hoyte van Hoyema), Mudbound (Rachel Morrsion), The Shape of Water (Dan Laustsen)
This year Roger Deakins won the Oscar for the fantastic "Blade Runner 2049." He's been nominated for Best Cinematographer 14 times (including this one) for some of the most critically acclaimed films of all time, such as: "The Shawshank Redemtion," "Kundun." and the Oscar-winning "No Country for Old Men." Considering the fact that hardly any cinematographers are well-known celebrities, and Roger is one of the most prolific cinematographers of all time. it's scandalous that he hasn't won an Oscar until now.
#MeToo
This year's Oscars was the first in the aftermath of the "#MeToo" Movement. "#MeToo" is a movement throughout Hollywood and across the world, born out of a piece from the New York Times on the sexual misconduct of Hollywood producer Harvey Weinstein, former head of Miramax. The movement is primarily fueled by social media, as a tool to present the struggles and abuses women have had to endure in the workplace and in the world. Speakers, winners, and presenters all took the opportunity to speak on the movement, and host Jimmy Kimmel liberally insulted Harvey Weinstein during his monologue, a move which none seemed to mind. Weinstein accusers like Selma Hayek were also given an opportunity to speak as presenters.
Leave a Comment
About the Writer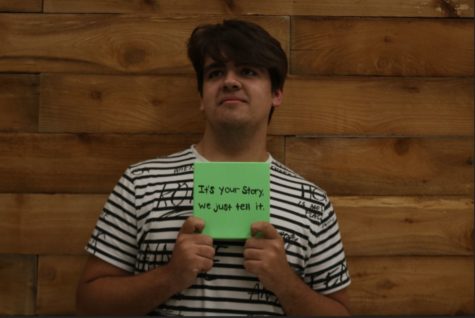 Samir Knox, Editor-in-Chief
Samir Knox is a senior at MHS. He is in Journalism II and is the current editor-in-chief. Samir likes to write about opinion pieces about entertainment...