The Cinderella of College Basketball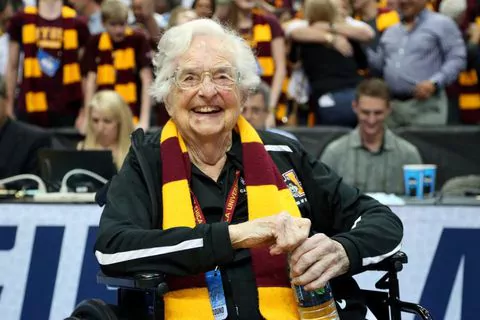 Hang on for a minute...we're trying to find some more stories you might like.
Jean Dolores Schmidt also known as Sister Jean was born in 1919 and is the internet sensation most known as the 98 year old chaplain of the Loyola's Men's Basketball team. A chaplin is a member of a private church or other private program. Sister Jean began her path to greatness with her first college job at Mundelein College in 1961, which was adjacent to Loyola's campus. She held several leadership positions at Mundelein before the school merged with Loyola Chicago in 1991. Upon her arrival at Loyola she became the Academic Advisor of Continuing and Professional Studies.
    Sister Jean became most famous with Loyola's Basketball program in the 2018 NCAA March Madness Tournament, After 11 seed Loyola defeated 6 seed Miami, which was the beginning of Loyola's cinderella run. She began to form a cult following within the next few weeks after Loyola defeated 3 seed Tennessee 63-62 in the round of 32. Heading into the sweet 16 Sister Jean had become a household name that everyone knew. Loyola took on 7 seed Nevada in the sweet 16, and they secured their spot in the elite eight with a dagger three pointer in the final seconds of the game by Marques Townes to clinch a 69-68 victory. By the sweet sixteen most people brackets had been busted and the unheard of 11 seed Loyola lead by Sister Jean was by far everyone favorited pick to win the tournament. By the elite eight everyone across the country was rooting to see the Cinderella team of Loyola move on, rallying behind Sister Jean. In the unheard of elite eight match-up between 8 seed Kansas State and 11 seed Loyola, Loyola was the favorite to win. Sister Jean gave her normal pregame speech to the team and the game began. Loyola stunned the country by become one of only three 11 seed to ever reach the final four after defeating Kansas State 78-62. Loyola would then have the biggest challenge of their tournament playing 3 seed Michigan for a chance to go to the National Championship. After a hard fought final four game, the Cinderella team that was Loyola had been eliminated by Michigan with a score 69-57. In the final minutes of the game Sister Jean had left her seat and headed to the Loyola locker room, after the loss the team was meet with her in the locker room and everyone broke into tears. Sister Jean had refused to meet with media like she had after all the other games. The internet took no time at all to make Sister Jean into a meme on the internet. After all being said the most memorable part of the tournament was Sister Jean and the Loyola men's basketball program.