Bynum Set To Break School Records
    Isaiah Bynum is one of Mehlville's most prospering athletes. He's been an allstate track athlete since sophomore year.
    His track career started freshman year. Bynum's mom encouraged him to join the sport to get faster for football. Fast forward to senior year, Bynum is now committed to Central Missouri State's track team and is set to break school records.
    "His freshman year I think the first couple of days of practice, it was just looking for people who were willing to hurdle. It's not an easy thing to do, especially at a freshman level. He came over and started hurdling," said Ernie Perrica, Bynum's hurdle coach. "Early on in his freshman year he was probably running the 110 [meter hurdles] at 20, maybe 21 – 22 seconds, and the entire year we basically tried to get him to where he could three step them. The very last meet of the season, we went to this conference meet at Fox. He three stepped them and dropped his time by like about five seconds. That's huge, especially for a shorter race like that."
    Bynum now runs a 14.72 seconds for the 110 hurdle and 40.80 seconds for the 300 hurdle. On top of running the 110 hurdle and the 300 hurdle, Bynum has taken up the triple jump this season. His goal this year is to be state champ and to beat the school record for 110 hurdle, which is 14.6 seconds.
    Bynum's rise to the top was not a single-handed effort. Sophomore year he began working closely with Dominic Waller, who was a senior at the time.
    "Dominic had hurdled before and was very good at it, and kind of took Isaiah under his wing and helped him. It was kind of like a mentor more than anything. This year I've noticed Isaiah, now he's a senior, and I have another sophomore, who's kind of working with Isaiah and just kind of seeing what Isaiah does, so as a team player he's been really helpful for me, that he's been helping some of the other kids become better hurdlers, and just better athletes," said Perrica.
    "Dominic Waller was a great mentor. I would have never been this far without him. He kept pushing and pushing and pushing [until] I was the greatest," Bynum added. He wants to be a good mentor for the sophomores proceeding him, like Waller was for him.
    Perrica notes how great it is that Bynum's mom and grandparents support him by coming to every meet and take pictures.
    "The big picture is that hopefully the weather gets nicer, we can see what he can do, hopefully make a return trip to state and be a 3-time allstate person. We haven't had many of those in Mehlville history. I've really appreciated the opportunity to work with him. He's a good guy, he's worked his butt off for me, and his accomplishments reflect how hard he's worked at track."
    Bynum will be competing in Sectionals this weekend for the 110 hurdles and 4×100 meter relay team with Patrick Gibbs, Dzenad Tasic and Tedrea Wedderburn.
About the Writer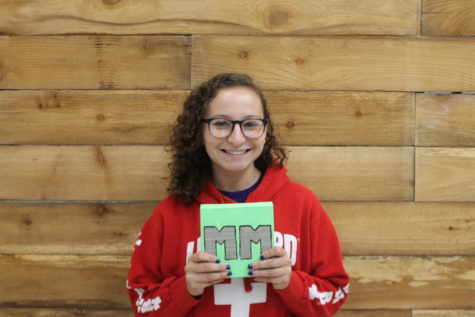 Kayla Saller, Features Editor
Kayla Saller is a senior in her third year at the Mehlville Media journalism program and the Features Editor. She enjoys covering news and hanging out...