The 9/11 Concert of Rememberance and Celebration: what was it?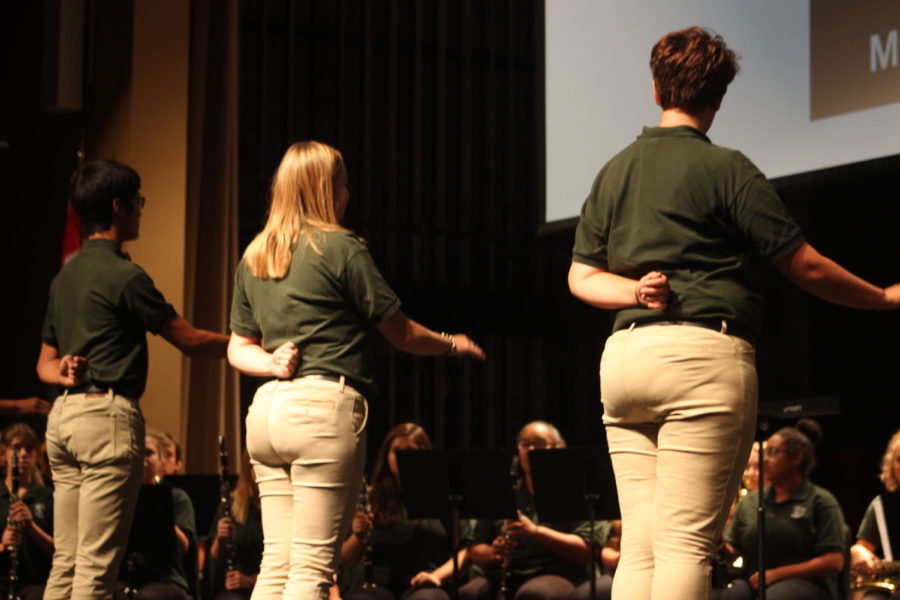 Members of Mehlville's "60plus Gold Card" Program, a program for senior citizens to attend Mehlville Events for free, filed into Nottelmann Auditorium for the 9/11 Concert of Remembrance and Celebration. Students and staff who park close to the school were asked to vacate their parking spots that day to accommodate for the visitors attending the event.
The event commemorated the 17th anniversary of the attacks on the World Trade Center in New York.
Students from Mehlville's Choir, Band, Drama and ProStart program all showcased their talents to the 60plus Club. Choir and band students each performed a set of songs with a patriotic theme.
ProStart and Foods II students catered a lunch for those in attendance, including cole slaw, hot dogs and chips. Placemats were made by students at Oakville Middle School, all of which featured a patriotic theme.
The choir performed "Star-Spangled Banner," "I Hear America Singing," "In Flanders Fields" and "Let There be Peace on Earth," introduced by Principal Dr. Denise Swanger.
"
When we talk about getting involved in our community, we really truly mean it"
— Dr. Denise Swanger, to concert attendees
The band performed "My Country 'Tis of Thee" and "Battle Hymn of The Republic." The latter of which was conducted by seniors Mary Galaske, Hannah Ireland, William Ho, and junior Noah Faulkner.
Interspersed between performances were readings of prose and poetry by Serena Jolly, Kevin Welborn and Nichole Prodes.
The second reading, shared by Prodes and Welborn, were the remarks of Marianne Lamont Horinko on the September 11th attacks, who patriotically emphasized the importance of gathering to commemorate the 2001 attacks. The speech, initially given in 2003, referenced "enemies in the world who would destroy us if they could." When given today, this excerpt is an obvious and dated reference to the Iraq War, and the idea of a terrorist state conspiring against America.
After the entertainment concluded, Ho, Ireland, Galaske, and Faulkner all conducted the audience in performing "God Bless America."
Apart from a photo of a field of flowers and one of the lyrics to "God Bless America," all of this was done underneath a gif of a waving flag.
The patrons (of which there were roughly 150 of) were split into two separate groups: one of which attended the concert first and the others who were fed lunch first. This meant all students working the event weren't only expected to perform or display their skills, they were expected to perform twice.
In attendance were many members of school administration, including: Director of Communications Jessica Pupillo, Assistant Superintendent, Dr. Jeff Bresler and an appearance from the superintendent himself, Dr. Chris Gaines.
Dr. Bresler addressed a crowd of the 60plus Club saying, "You're going to love today."
Ms. Pupillo, who spoke to Kayla Saller and myself, stressed that the event was less commemorating 9/11 itself, and more about showcasing student talents. She oversees a program that brings attention to student talents, this event was the first one to feature high school students. She mentioned plans for future events, the next of which is happening at Blades Elementary.
The event, which was mainly focused on showing student talent, was a success, in which all parties performed well, the students showcased their talents and the 60plus club were able to enjoy a free meal and performance.
Reporter, Kayla Saller,  Broadcast Producers, Awa Sy, Orianna Garner and Jasper Hong and myself, all reported on the event.
You can see the photos Jasper took here, in a photo gallery of the event.
About the Writer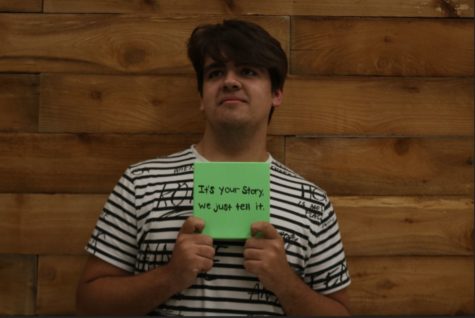 Samir Knox, Editor-in-Chief
Samir Knox is a senior at MHS. He is in Journalism II and is the current editor-in-chief. Samir likes to write about opinion pieces about entertainment...