Kyler Murray Committed to Football
Now that Super Bowl LIII is over, all eyes will be fixated on this year's highly anticipated NFL Draft.
What makes this draft so different from others is not only the amount of talent on display, but the storylines as well.
From multiple Alabama players entering the draft, led by Outland Trophy winner, Sophomore Quinnen Williams to top-rated Ohio State Junior defensive end Nick Bosa, media coverage has been at an all-time premium.
But the biggest storyline is former Oklahoma quarterback Kyler Murray, and it just got even bigger.
On Feb. 12, Murray tweeted out that he is "firmly and fully committed to becoming an NFL quarterback."
In the Heisman Trophy winner's first season as a starter, Murray passed for over 4,000 yards with a 69% completion rate, threw for 42 touchdowns and averaged 11.6 yards. He rushed for about 1,000 yards for 12 touchdowns and averaged 7.2 yards rushing.
With an explosive offense, he led the Sooners to a 12-2 record, claiming the Big 12 title and the last spot in the College Football Playoffs as the nationally ranked number four team, eventually losing out to Alabama 45-34 in the CFP semifinal.
With these stats, it might be hard for a player not to enter the draft. But Murray was already drafted, as the ninth overall pick by the Oakland Athletics in the 2018 MLB Draft.
Murray even signed with the team back in June 2018, receiving a 4.6 million dollar signing bonus and being allowed to play one more season for the Sooners.
Since then Murray has lit up the college football world, creating a lot of buzz on whether he should choose football over baseball.
"If I was in his shoes, I'm picking up the baseball bat and never looking back," said Deion Sanders, who played football and baseball professionally at the same time, on ESPN's SportsCenter.
Now that Murray has officially chosen football, he will be the talk of the town until the 2019 NFL Draft begins.
If Murray is to play in the NFL, one of the biggest problems he faces is his height. The same was said with Baker Mayfield, but the problem was if he was actually 6'1″ or 6'0″.
In this case, Murray is listed as 5'10", but some think he's closer to 5'8″. Either way, it's a significant drop off from Mayfield.
Despite the height, Murray is projected as a middle of the pack first rounder. He has an explosive arm and a very efficient run game. It'll be interesting to see how Murray deals with the height problem if he stays committed to the NFL, but otherwise he'll be an excellent quarterback that teams will take note of in the NFL.
About the Writer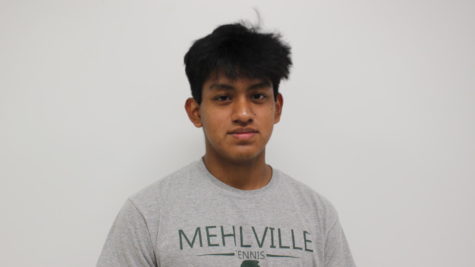 Kyle Becherer, News Editor
Kyle Becherer is a senior at Mehlville. This is his second year in Student Prints, and he likes to write features. In his free time, he plays soccer for...