The Bosnian Experience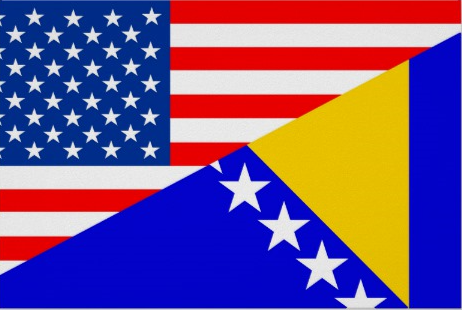 The year is 1995. The war in Bosnia and Herzegovina against Bosnian Serbs has ended. Bosnia's economy is weak and thousands are dead. Its citizens are suffering and looking for a miracle in these times of despair and tragedy.
The end of the Bosnian war brought in an influx of Bosnian immigrants to the United States. The majority of them came to Saint Louis and years later, Bosnians integrated with American society and brought in their own culture from the motherland.
Things like sports, food and music define a culture. For Bosnian-Americans, they've stuck to their roots. Soccer games and concerts are just some of the many ways Bosnians bond together and feel connected to their ethnicity. The most well-known gatherings are the Bosnian Festivals held in Carondelet Park.
"It's a time for families to get together and friends, it's fun." Said Sophomore Medina Mesinovic.
Restaurants like Berix or Grbic bring a little taste of home to those who eat their food. Foods like cevape, grah and various versions of pita remind customers of their home in the east. Although most Bosnian families prefer to cook meals at home, these places give them an excuse to leave the house every now and then. Usually Bosnian food is plentiful and rich in carbs and this is due to generations before living and working on farms for the majority of the day. The desserts are super sweet and meant to be eaten in small quantities.
Bosnian coffee is a main component in the day in the life of Bosnians. It is strong and a day isn't complete without it. It is often drunk at least twice a day, once in the morning and once in the afternoon, usually after work. Family gatherings produce an aroma of coffee that fills the space.
Grbic is a restaurant that is well-known in the Bosnian community for serving good food but also hosting private events. Many use this ballroom space for weddings and most notably, concerts.
Grbic has hosted Balkan singers like MC Stojan, Nedeljko Bajic Baja, Jala Brat and Buba Corelli and many more. While there are many modern singers like Maya Berovic and Aleksandra Prijovic, many turn to older generations of Balkan music. Icons like Sasa Matic, Halid Beslic, Dino Merlin, the famous rock group Bijelo Dugme and many like them. Music brings the Bosnian people together, so concerts are a special time for them to embrace their favorite part of the culture.
Bosnian folk music hasn't completely disappeared from modern lives though. It's extremely prominent at weddings and other cultural events. Bosnian children are often enrolled in "folklor" or traditional dancing. The most common being kolo where dancers hold another person's hand, creating a big circle. The dance is based around the beat of the song which is generally fast-paced. This dance is a staple in any Bosnian's life.
Bosnians have created an abundance of restaurants, stores, hair salons, clinics, businesses and anything else you can think of in the Saint Louis area. They've made themselves at home, which couldn't have been easy after living through a war, immigrating to an unknown land, learning the language and still having the courage to wake up every morning.
Most of the Bosnians here at Mehlville are second generation. They speak Bosnian at home because their parents are immigrants but come to school and then speak English. Many have settled in the South County area and anyone who lives nearby knows that Bosnians are no strangers to Mehlville High School.
"It's been really special because there are a lot of Bosnians here and I don't feel excluded." Said Sophomore Dzena Topalovic.
Bosnian students have adapted into American society and blend right in with the culture. They still retain their identity and lives outside of school. They teach others about the Bosnian lifestyle and country which many travel to over the summer.
"My favorite part of being Bosnian is having a big family. We get to travel to Europe all the time to see family, and there is always something going on." said Freshman Samra Mujkic.
Over summer vacation, Bosnians take a break from life in America and visit family in Europe. Many family members still reside in Bosnia, so getting a chance to visit is special. Although visiting the beautiful sights of Bosnia and Herzegovina is riveting, some don't wish to go back.
"I love to travel to Bosnia, and it is a beautiful country, but I wouldn't move there because it just has such a different lifestyle." said Mujkic.
The American lifestyle has captivated modern Bosnians and they are so used to life in the United States, they wouldn't feel comfortable moving back. Some students,though, wouldn't mind moving back for the sake of a good relationship with their families.
Bosnians have made a huge impact on Saint Louis and especially Mehlville. The district has opened the Bosnian-American Studies class where students can learn about the genocide and war through texts and other primary sources. Bevo Mill, which is nicknamed "Little Bosnia" has a sebilj, which is a wooden and stone water fountain, identical to the one in Sarajevo, Bosnia's capital. With stores and architectural pieces, Bosnians have made a positive mark on Saint Louis and show no signs of leaving the community anytime soon.