The Tradition of Paw Prints
Every year at Mehlville High School, seniors get the opportunity that other students don't have: to decorate paw prints around the stadium.
It's a tradition that every senior looks forward to, and this year is no different.
"I thought it was a unique idea and great to have one out there with the rest of the seniors," said senior Senad Jahic.
A month or two into the school year, the Senior Executives allow students to start decorating a pre-made paw print in and around Jack Jordan Stadium. While they also help to provide the brushes, paint and other supplies necessary, it's a first come first serve system for paw prints since there is a limited number.
"I got kind of lucky," senior Chris Hopwood explained. "I came pretty early and got one of the last ones that was open at the top of the football stadium."
Besides trying to find a paw print, the amount of time it takes to finish one can be challenging for seniors.
"I'd say the hardest part was actually painting it," Jahic said. "It took roughly about two days, but it was three hours each day."
Another common problem among students is what to include on their paw prints.
"It was hard trying to figure what things to put on and what things to leave off because you only have so much space," Hopwood said.
There are no regulations as to what students can and can't paint, so long as it it school appropriate.
While there are many reasons why seniors decide to make a paw print, the most popular idea was to represent what they've done throughout their high school career.
"I saw people make paw prints for four years and I always wanted to get to the point where when I was a senior I could make one," Hopwood explained.
No matter what the reason for doing it is, decorating a paw print is a great way to leave a mark on Mehlville High School.
Whether it's during football games or outside assemblies, everyone will look down and see those paw prints.
About the Writer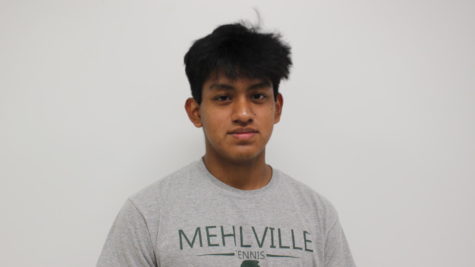 Kyle Becherer, News Editor
Kyle Becherer is a senior at Mehlville. This is his second year in Student Prints, and he likes to write features. In his free time, he plays soccer for...