2012 Special Olympics
Hang on for a minute...we're trying to find some more stories you might like.
by Ernad Suljic; Chief Web Administrator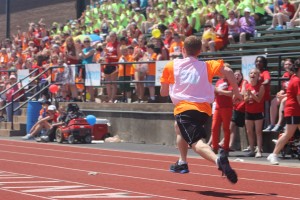 Not one school day during the year can top the day the Special Olympics are held. Smiles seemed to be contagious as the annual Special Olympics Track and Field meet was held today at Mehlville Senior High School. Student athletes, buddies, timekeepers, cooks, Olympic Village volunteers, and the Steering Committee all put forth their effort to make this day one of the best at Mehlville this year. We at Mehlville Media hope everybody had a great time, and we know that you are all excited to see the photo gallery that contains over 300 pictures from today. The gallery is on the 'Special Olympics Gallery' page, which can be found here https://mehlvillemedia.com/?page_id=947 as well as below.
IMPORTANT: Please give the gallery about 30 seconds to load fully, as there are 312 photos. Once the first one shows up, you can cycle them normally and click "FS" in the bottom right hand corner if you would like to fullscreen the photos. 
Photo and Gallery Credit – Ernad Suljic; Chief Web Administrator
[flagallery gid=3 name=Gallery]