College Commitments
Mitchell Walters:
Walters will be furthering his athletic career for Divison l football at the University of Missouri.
Walters chose Mizzou because as soon as he stepped foot on campus, he knew that he wanted to be there and be able to play for his home state team. When Walters was asked what he was looking forward to most, he didn't hesitate to answer.
"I'm really looking forward to all the opportunities I will have to compete in the sport I love while getting a great education and forming a brotherhood like no other," said Walters.
Walters has a few great goals set for himself during his freshman year.
"My goals for my freshman year are to use my four games (to keep my red shirt eligbility) and to travel a lot with the team," Walters said.
Walters definietly has a bright future ahead of himself playing at the University of Missouri.
Davion Bradford
Bradford will be continuing his athletic career in Division l basketball at Kansas State University.
Bradford's commitment was one that had everyone waiting. After getting 22 division one offers, Bradford had to narrow it down to just one.
"I chose Kansas State because they have been recruiting me the hardest out of all the schools," Bradford said. "I loved it when I went to my official visit there and I've built a close relationship with the coaches, especially since they showed a lot of interest and loyalty in me," said Bradford when asked why he chose Kansas State.
Bradford is really looking forward to seeing himself progress every day and becoming opponents with his St. Louis friends on the court while playing for Kansas State.
Davion Bradford has a bright future ahead of him at Kansas State.
Madison Ledbetter
Ledbetter will be continuing her athletic career at Quincy University for soccer.
"I chose to commit to Quincy because I really like how the campus is small and a majority of the students are student-athletes, and I really like the girls on the team," said Madison Ledbetter.
Madison Ledbetter has many people she'd like to thank that helped get her to where she is today.
"I would like to thank my parents for pushing me throughout my life, my two club coaches that helped me build my confidence, and Coach Merritt and Coach Casey for making the last four years of high school so much fun and for teaching me new things," said Madison Ledbetter.
Madison's goal for her first year is to get a starting position.
Grace Ledbetter
Ledbetter will also be continuing her athletic career at Quincy University for soccer with her sister.
Grace chose Quincy because she knew that after high school, she wouldn't be able to give up on the sport. Also, after meeting with the coaches and girls on the team, the bond with them immediately clicked.
Grace has many goals for her first year at Quincy University.
"My goals for the first year are to keep up my grades and hopefully work my way up to becoming a starter, as well as staying in shape and keeping my old friendships while making new ones," said Grace Ledbetter.
Good luck to Grace Ledbetter as she continues her athletic career at Quincy.
Emma Hubbell
Hubbell has committed to Lindenwood University to further her running career.
"I decided on Lindenwood because they had the best opportunity for me with school and a great exercise science program and their team is on the smaller side so everyone becomes like a family. They also are very successful and almost all of their runners PR their first year there," said Emma Hubbell.
Hubbell seems to have many personal goals for herself in her first year at Lindenwood.
"My goal is to PR in the 5k which is 19:48. I also want to complete a whole year without being injured because I tend to get injured every track season, so being healthy is my number one goal," said Hubbell.
Emma Hubbell deserves nothing but the best as she continues her running career at Lindenwood.
Christian Harvey
Harvey has committed to Meramec Community College to continue his baseball career.
"I chose to commit to Meramec because when I went on a visit there, the campus seemed like the best fit for me and I knew their baseball program was something I wanted to be a part of," said Harvey.
Harvey is really looking forward to playing college ball next year and is hoping to raise his GPA, so that he can eventually get to a university.
Good luck to Harvey as her furthers his athletic career at Meramec.
Cameron Fuller
Fuller will be continuing his baseball career at Harris-Howe State University.
Fuller decided on HSSU because of their education and he really enjoyed the team as well as the campus.
"HSSU constantly has games, so I'll be playing all throughout college," said Fuller.
Fuller is ready for college ball and all the new and exciting things it comes with.
"The one thing I truly am looking forward to the most is seeing all kinds of new competition, and doing it all with my new family," Fuller said.
Fuller has a bright future ahead of him.
Emily Pesselato
Pesselato has chosen to further her athletic and academic career at Missouri S&T.
"I chose to commit to Missouri S&T because I really felt at home when I was on the campus and the team was very welcoming," said Pesselato.
Pesselato is very excited to attend Missouri S&T so that she can run at a higher level. She also has a strong goal set for herself as she attends her first year.
"My goal for the rest of year is to do my best and continue pushing myself to be the best runner and student that I can be," Pesselato said.
Good luck to Emily Pesselato as she furthers her running career at Missouri S&T.
Colton Torrence
Torrence has committed to Maryville University to continue his volleyball career. He will continue at the highest collegiate level, Division 1.
"I'm most excited about it being a brand new program and getting to help found a new legacy," said Torrence.
He will not be playing his freshman year because it will still be a club sport so Torrence plans on practicing and working out with his team.
"My sophomore year it will be an NCAA sport," said Torrence.
Torrence will have plenty of time to get ready for the best competition he has ever faced.
Abigail Miller
Miller decided to continue her athletic career at Arkansas State University to play D1 soccer.
When she asked why she chose Arkansas State, she didn't hesitate to answer.
"I committed to Arkansas state because everyone would always say that I would just know when I'm at the right college because it'll feel like home and I never really thought I would have that feeling because I've visited so many colleges before and I've never had that feeling. When I walked on the campus and was talking to the coaches, it just felt like home and I felt like my future was going to mean more than just soccer there," said Abigail Miller.
Miller is really looking forward to college and especially getting out of Missouri to experience something new.
"I am honestly so excited for college," said Miller. "I was nervous at first, but the more and more information that I get and I'm getting closer to my other teammates that are in my class. It all is becoming so much more exciting," Miller said.
Good luck to Abigail Miller as she furthers her athletic career at Arkansas State University.
Leave a Comment
About the Contributor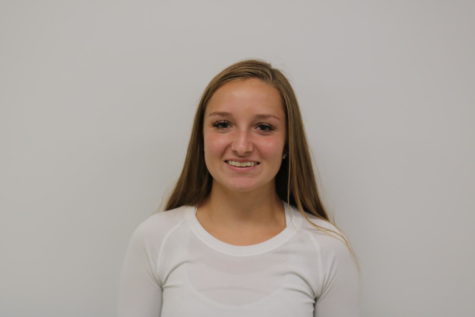 Natalie Brooks, producer
Natalie Brooks is a senior at Mehlville and is on the dance team. She is going into her second year in Mehlville Media and is also a producer in broadcast....