Lowery Dives Into a New Swim Season
     Since freshman year, Kaelyn Lowery has been making waves for Mehlville High School's Girls Swim Team. Year after year, she has been a consistent conference qualifier for the 50 and 100 freestyle, 100 fly and three relay teams. 
     But her success with swimming will not conclude at the end of the season. 
     After graduation, Lowery will be continuing her swim career at the University of Saint Mary in Kansas City. 
     "I chose Saint Mary because it's far enough away from home and it's a small college. The team was really nice too and I already felt like I had a family there so I really liked that," explained Lowery.
     Outside of Mehlville, Lowery is a part of Rockwood Swim Club, a team she has been on for almost three years.      
     Unlike her high school team, the atmosphere of a club team is very different.
     "High school is definitely more lenient and the practices are not as long or fast paced compared to clubs where we swim over 1000 yards each practice," explains Lowery.
      Although the two may be different, Lowery equally enjoys both teams and all of the memories that come with being a part of them. 
     "One of my favorite memories from high school swim was when Lucy, Nerma, and I pretended to be rocks at the bottom of the pool during practice," said Lowery.
     Some practices may be fun, but Lowery always remembers to focus and swim hard to prepare for meets. 
     "'My coaches and everyone around me are my biggest motivation. With the people from Rockwood, I look at their times and I'm like 'Oh I could do that and I push myself to get that time,'" Lowery explains. 
     With the start of the season, Lowery is also very optimistic about potentially making it to state this year. 
     "I think that we can make it to state because we have a good relay team. I'm hoping that I can make it in the 100 fly as well, but I think it's going to be a good season!" said Lowery.
     In the relay team's first meet, against Webster Groves, they qualified for state in the 200 Medley (1:58:38) and 200 Freestyle (1:48.31). They are now ranked 4th for the Medley and 3rd for the Freestyle under MSHSAA Girls Swimming Class 1.
     As for individual events, Lowery is currently ranked 18th for the 100 Freestyle (59.55) and 17th for the 100 Butterfly (1:06.32).
View Comments (2)
About the Contributor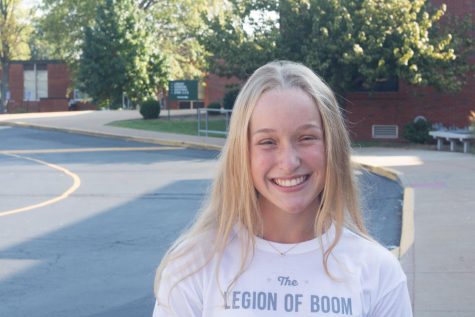 Taylor Kordik, Director of Public Relations
Taylor Kordik is a senior at Mehlville High School. This is her first year in journalism. She is involved in Student Council, Senior Exec, Konnect Mentoring,...