October is the Time to Have a Happy… Christmas?
 In October, you might think of ghouls, ghosts, zombies, monsters and gore, so that's what will be in stores, right? Well, not exactly. You might walk into a craft store to find a costume for a party you're going to. You try to find the seasonal aisle, and boom! Santa Clause or fake snow. Fuzzy holiday sweaters and hats placed where the costumes would be. You keep looking for a light up creature for your front yard or window, and find it in a dusted corner of the store. 
Well, why is this happening? Halloween in writing this, hasn't even occurred yet, and yet we're starting to see fake Christmas trees in dollar stores. This is an actual phenomenon called the Christmas Creep, in which retailers are extending the time they have holiday decorations out. 
This year will look a little different from past years, which yes, makes sense considering the massive shipment delays because of the cargo traffic and the heightened demand for products. But that's just shopping for things to get for people for the holidays and not the decorations, right? Well thanks to online shopping, the decorations are a part of communication for the consumers. If someone sees a bunch of decorations out of Santa, they might go, "Hey, I need to start shopping for gifts!" 
Could these statistics also be influenced by retailers? It's obvious that they do use tactics to get people thinking about holiday shopping, with the decorations up before Halloween, and the ads starting right as November hits. Christmas's popularity could even be in large part because of commercialization of the holiday for stores to sell products. An example of this could be Target in 2020, when profits rose 17.2% in the holiday season. A telling sign retailers are the ones who could be at fault for these early holiday items. 
But Halloween makes retailers a good buck too. This year, a record was broken with consumers spending over an estimated  $10.14 billion on decor, costumes, decorations, and other ghoulish things. The reasoning behind this is that well, Halloween is a great holiday to participate in and many of Americans have fun getting ready for it. 
In 1989, in Journal of Environmental Psychology Volume 9, a study found that Christmas decorations make people happier, especially when seeing a neighbor have them up. But, Halloween decorations are the same way. In fact, the study says that someone who decorates for any of their favorite holidays might be excited and feel more ready for the season ahead. The more Halloween decorations around Halloween, the more fun people might have! 
Halloween has also grown in popularity in the last few decades, and many Halloween oriented characters are huge pop culture icons. Characters such as Ghostface, Freddie, Michael Myers and Jason are just a few characters that have dominated the movie and TV screens for decades. In reality both Christmas and Halloween have equal footing in media, but not in sales. If the shops waited longer in future years to put out winter holiday decorations, they could get plenty of more sales from Halloween decorations and costumes. 
This can lead to a more balanced choosing of decorations and we could have more variety within them, such as having more generic fall decorations and Thanksgiving items to put around the house to impress the family.
Leave a Comment
About the Contributor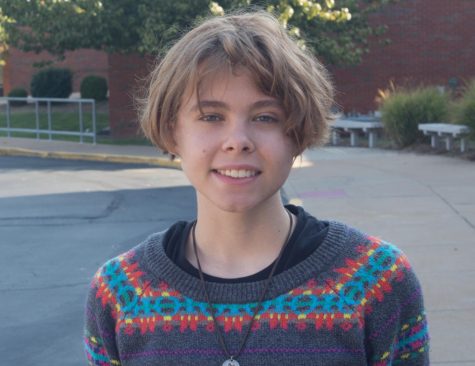 Mya Williams, News Editor
Mya Williams is a senior at MHS, and is one of the reporters for Mehlville Media. Her hobbies are reading and hiking and being a part of theater productions....