MSHAA Creates Girls Wrestling League
Recently, the Missouri State High School Activities Association (MSHSAA) voted to separate wrestling amongst high schoolers, creating a boy and girl team. Mehlville High School, one of the many Missouri High Schools to do so, has embraced the change with open arms.
Traditionally, wrestling has been a co-ed sport, with girls participating and wrestling against mostly boys in matches. With an increase in popularity of girls wrestling, MSHSAA created a ballot for members to vote for or against the separation of the sport.
"I think it's amazing," said senior captain and third year wrestler Mennatallah Alnamoora. "I would wrestle guys and just naturally they had more advantage because they had more muscle weight than me."
According to Young Females Health, males have more testosterone than females naturally, meaning they can build muscle faster.
"Now we can still win with technique, but it was just not fair weight wise because wrestling is based on weight," Alnamoora said.
Along with the separation of the co-ed sport, MSHSAA also created a state championship bracket. This consists of one classification for all girls and two district tournaments within the class. Seeding for these district tournaments will be based solely on girls versus girls results from the regular season.
"I think it's good because then the state realizes that there's more girls that are wanting to do it and I think that's the reason that there's more girls doing it," said freshman wrestler Abigail Pesselato. "Then, you know, you don't always have to wrestle the boys."
Because the amount of boys greatly outnumbers the amount of girl participants in the sport, it can be hard for girls to find matchups against other girls, let alone be in the same weight class.
"Sometimes if your weight class was not available you'd have to go up," Alnamoora explained. "So I'd be smaller than most of the people that I was wrestling and I feel like it was just unfair."
With the introduction of girls wrestling, MSHSAA stated it will continue to follow the National Federation of State High School Associations (NFHS) wrestling rulebook as it does for boys, with the exception of weight classes and the amount of weight classes.
"The separate wrestling team for girls is a big step for wrestling in general," said second year wrestler, sophomore Robert Rothmeyer. "Before it used to be a co-sport, but now they have their own coach and their own section of the mats- it's all cool."
This season and the next will be considered a "transition period" for female wrestlers, they can still participate in their school's respective lineups for both teams.
However, "from the start of implementation of Girls Wrestling, the girls must participate in the girls postseason.
The Mehlville girls wrestling team will travel with the boys team for most meets this upcoming season and will compete in both varsity and girls-only tournaments. This includes the Girls Tournament at Seckman Dec. 8, the Fort Zumwalt East Varsity Tournament of Dec. 14 and most notably the Mehlville Women's Tournament, hosted by Mehlville Dec. 21. For more information, visit the Mehlville High School website.
View Comments(1)
About the Contributor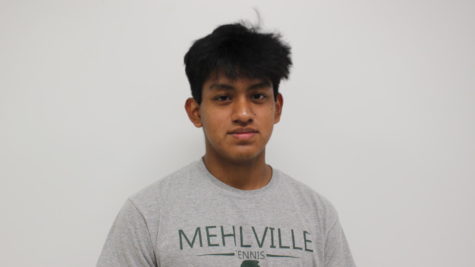 Kyle Becherer, News Editor
Kyle Becherer is a senior at Mehlville. This is his second year in Student Prints, and he likes to write features. In his free time, he plays soccer for...