Caleb Dix Commits to Evangel
Sport: Soccer
Height: 5'5″
Weight: 140 Ibs
College: Evangel University
Intended Major: Biology premedical
Position: Midfield and Forward
Honors/Awards: First team All-Conference, First team All-Region, District Sportsmanship Award, Mehlville Varsity Team Captain
Caleb Dix started playing soccer in third grade. Since then, Dix has found that this sport can carry a lot of ups and downs. That is all the more reason for him to keep competing.
"My favorite thing about soccer is just being able to meet all the new people," Dix said. "I have played with about eight different clubs and teams and made a lot of my lifelong friends in this sport so it was only right that I continued playing in college.
Evangel is a private Christian university based in Springfield, Missouri.
"I chose Evangel because I really like the campus size," Dix said. "I think small schools fit my personality more and I also love the campus itself."
Dix also already found a connection with the team itself saying he can feel how welcoming the team was on his visit.
Even though Dix has a height disadvantage on the field he found a strong suit to rely on his speed.
"I am not the tallest guy around so I have to make up for it in speed," said Dix. "I also don't get knocked off the ball a lot because of my balance.
Caleb has a bright future at Evangel.
If you have committed to play a sport or activity in college, you can submit an idea for a story or you can email [email protected].
Leave a Comment
About the Contributor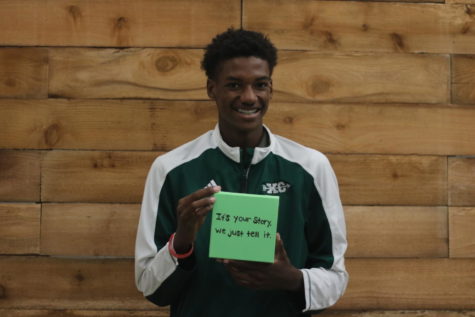 Kaelin Triggs, Managing Editor
Kaelin Triggs is a senior at Mehlville High School. His after school activities include cross country, track & field, and is also a Konnect Mentor....