Two-Sport Athlete Darren Carr Commits to Missouri Valley
Sport: Football and Track & Field
Major: Physical Therapy
Defensive Position: Tackle
Athletic Honors and Awards: Offensive Second Team in the Division
Events: Shot Put and Disc
Best Shot Put Mark: 37′-11″
Best Discus Mark: 90′-10″
Height: 5'9″
Weight: 300 Ibs
Carr started the sport of football at a young age of only five.
"I love the sport because it doesn't matter how big or how small a person is, there is always a spot for you," Carr said.
On the field, Carr has a good knowledge of the game.
"One strength I have in football is knowing what to do and the technique I need to be successful," said Carr. "I know if one thing does not work I can try something else."
Carr hopes to learn how to use his hands more on the football field to get around people.
Other than football, Carr has also found a interest in track & field.
"I like track because it is a team sport but it is more independent based," Carr said. "It's a sport where you can chill, relax and still make friends."
Carr started track & field his sophomore year of high school. His strengths on the football field transfers over to the track helping him in the throwing events.
"In college I hope to improve on my technique and hopefully throwing farther," Carr said
Carr chose Missouri Valley because of the size saying it is not too big and the class sizes are small.
"They said it will be hard if the teachers didn't know your name," Carr said. "It will be more personal help and all your teachers will know your name."
Carr hopes to major in physical therapy. Congrats to Darren and his commitment to continue his athletic career and education at Missouri Valley College.
If you have committed to play a sport or activity in college, you can submit an idea for a story or you can email [email protected].
Leave a Comment
About the Contributor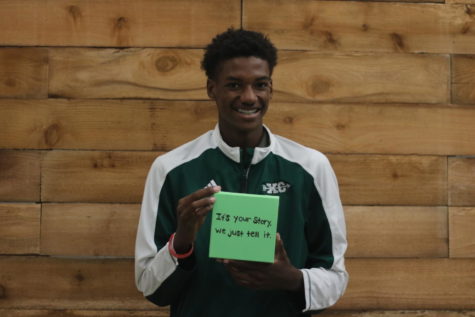 Kaelin Triggs, Managing Editor
Kaelin Triggs is a senior at Mehlville High School. His after school activities include cross country, track & field, and is also a Konnect Mentor....