The Anomaly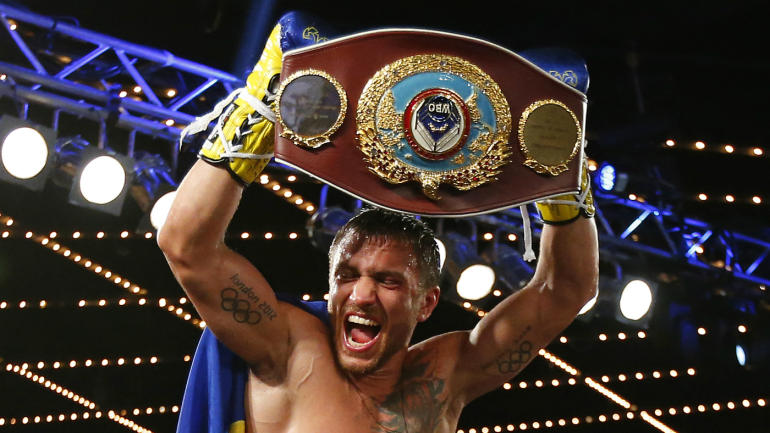 In the history of boxing we have seen many greats rise above all others, namely, Mike Tyson, Sugar Ray Leonard, Floyd Mayweather, George Foreman, and of course Muhammad Ali. Our generation might have the best yet.
Vasyl "Hi-Tech" Lomachenko is a Ukrainian professional boxer born in 1988. Though relatively new to pro boxing, Lomachenko has a decorated history in Olympic boxing. In the 2008 Beijing Summer Olympics, he won a gold medal at featherweight (57 kg). In the following 2012 London Summer Olympics, he won a gold medal at lightweight (60 kg). His pro boxing record currently stands at 9-1 with seven wins by KO; including three wins by RTD, a corner retirement where the fighter refuses to fight anymore at the end of a round. Corner retirements are rare as they essentially show a defeat of both the body and mind, and are generally regarded as an embarrassing loss for any boxer.
Lomachenko fights like nobody else in the sport on account of his irregular fighting stance; he actually happens to be right hand dominant but stands as a southpaw (right leg and hand forward as opposed to orthodox which is the opposite). Lomachenko is not the first to do this but nobody else incorporates it into their fighting repertoire currently. Bruce Lee was the first to have used this fighting stance because it allowed his left hand to also have power with momentum, while his jabs would remain devastating. It also allowed him to have his dominant foot forward. This is the key to Lomachenko's masterful footwork and stability. He steps within the feet of his opponent, essentially trapping them and moving too quickly for them to react.
He plays within the pocket which is the space between fighters. Most fighters dodge out of the pocket even if they normally fight within it, but Lomachenko dodges in. His precision in avoiding strikes is almost unreal. It's as though he is from the future and can perfectly predict every punch coming. Lomachenko slips jabs and hooks like Neo dodges bullets in the Matrix.
Within just a year of Lomachenko's rise to glory, many boxing gyms across the world are teaching his strategies, a feat that usually takes a long career. His style is something that is possible to be taught, in theory, whereas you can't train one to punch as hard as someone like Mike Tyson. This is absolutely not saying that everyone could do what Lomachenko does, because they can't. His techniques require a superior level of athleticism, mental preparedness, and forward thinking. These attributes in accordance are what make Vasyl Lomachenko an anomaly.
One might point out that Lomachenko has a stained record, whereas there are fighters with massive, undefeated streaks. To begin, Lomachenko hasn't had the "record fluffing" fights that most boxers start off with. In just 10 bouts, the combined record of his opponents is 291-27-13. The sole loss contained in Lomachenko's fight history was to Orlando Salido, a seasoned boxer, in a controversial split decision. It was Lomachenko's second fight. Salido failed to make the 126 pound limit at 128.5 lbs which stripped him of his world title but the fight continued as scheduled. After rehydrating, Salido was 147 lbs, 11 lbs heavier than the 136 pound Lomachenko. Through these disadvantages, Lomachenko still managed to put on a show for the fans and make the fight close enough to be disputed. Lomachenko landed 164 punches out of 441 vs the 142 landed out of 645 for Salido. The judges' scores were finalized as follows: 116-112 for Salido, 115-113 for Salido, and 115-113 for Lomachenko. Fans and analysts alike were shocked at the result, believing Lomachenko was the rightful victor. ESPN scored the fight as a draw at 114-114.
The characteristic that undeniably defines Vasyl Anatoliyovich Lomachenko as a champion is his humility. Lomachenko was not angered by this loss, he took the blame upon himself entirely for not performing impeccably, and not entirely following through with his corner's game plan. He promised to learn from the experience and return stronger. Lomachenko was not lying in the slightest, winning his next fight against undefeated Gary Russell Jr and subsequently winning the vacant WBO featherweight title.
Vasyl Lomachenko's next fight is scheduled on December 9th (subject to change) in Madison Square Garden against Olympic gold medalist Guillermo Rigondeaux, who sports an undefeated fight record of 17-0-0 with 11 knockouts. For the first time in the history of boxing, two fighters who have each won two Olympic gold medals are going to fight. Rigondeaux is a defensive fighter and one of the best, at that. Though held to high esteem as of the greatest technical boxers of this era, he's regularly criticized for his inactivity, causing boring fights. This results in other fighters avoiding Rigondeaux. Lomachenko would never back down from a challenge though, he has a massive appetite to fight only the best and was exhilarated when the title fight officially announced. Bob Arum, legendary boxing promoter, said "It's going to be the greatest fight since Ali-Frazier III. When historians write about boxing years and years from now, this is going to be a fight they mention." This win would make certain that Lomachenko is to be regarded as the #1 pound-for-pound boxer.
Though still early in his career, Vasyl Lomachenko shows promise in being the best boxer of all time because as with any craft or discipline, boxing evolves. Knowledge progresses and specialists become increasingly masterful. At a time where boxing has rapidly lost popularity due to corruption and competing combat sports such as MMA, Lomachenko is truly revolutionizing and revitalizing the art.
About the Writer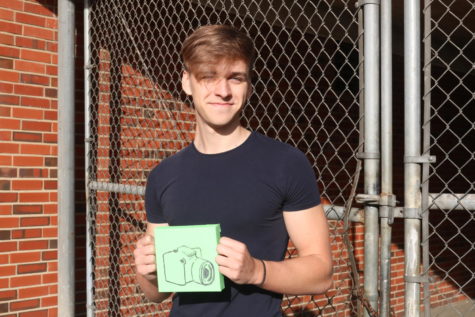 Mirzad Kablic, Reporter
Mirzad Kablic is a senior writer and columnist for Mehlville Media in Journalism 2. He is the writer behind The Long and Short of Fit, a fitness and fighting...