A New Champion
In June of 2018, we will have a new NBA champion, a city marching in celebration, another city clouded in sorrow. This upcoming finals will probably be the two teams we have seen for the last three years. Lebron James' Cleveland Cavaliers and Kevin Durant's Golden State Warriors. The real question is, will the Warriors be too talented for Lebron to handle or do the new additions to the Cavaliers push them over the mile high hump that is Golden State.
A trade this summer shocked the NBA world. Kyrie Irving was traded to the Boston Celtics for Isaiah Thomas, Jae Crowder, Ante Zizic, Boston's 2018 first round pick, and Boston's 2020 second round pick. Kyrie Irving was the second biggest piece for the Cavs. The Cavaliers got Isaiah Thomas to replace him, but he is out with an injured hip until January. Jae Crowder will help defensively on the bench unit and the picks will help for the Cav's future.
The Cavs also signed Derek Rose, who is a former MVP but is far past his prime and is very injury prone. If Derek Rose's minutes are reduced to help stay away from the injuries, he could be a very valuable piece for Cleveland. The Cavaliers also signed Jeff Green who is a good defensive veteran. The last move the Cavs made was to sign one of Lebron's personal best friends, Dwyane Wade. Wade is a three-time finals champion and used to be one of the best shooting guards in the league but he is 35 years old and basically a role player now.
The Warriors did not have the cap space to make a lot of moves after resigning Steph Curry to a 5 year $201 million deal. They also resigned former finals MVP Andre Iguodala and Shaun Livingston to three year extensions. Zaza Pachulia, David West, and Javale McGee agreed to one year extensions.
    The only player the Warriors signed from a different team was the one and only Swaggy P, Nick Young. He perfectly fits the scheme for a bench player because he is good at shooting from deep which is the Warrior's whole game.
Obviously the Cavaliers made more moves this off-season but the Warriors are still gelling with Kevin Durant which could spell trouble for the Cavaliers.  The Warriors also only lost one game in the whole playoffs last year. If Golden State can be that dominant the first year they were together, it will only get better for the Warriors. The Cavaliers have gained a deeper bench from last year so Lebron will get to rest more than a minute and a half at a time. The Cavs are a deeper team than the warriors but the Warriors have so much more firepower and a Defensive Player of the Year in Draymond Green.
Barring that no one gets injured in the playoffs and Isaiah Thomas is back to his 28.9 points per game, here are the starting players matchups and some key bench matchups.
Point Guard- Isaiah Thomas vs. Steph Curry
The Cavaliers Isaiah Thomas has grown into a very skilled scorer in his last two seasons. One would think he would just be a role bench player given his 5'9" frame but he shocks the world with his stunning finishing around the rim and his excellent shooting ability. Steph Curry on the other hand is a two-time MVP and has broken countless records by shooting 3's. They are both prolific scorers but lack on the defensive end of the ball. Isaiah will probably score just as much or more than Curry but his height would be too easy to exploit. The winner by a small margin in this matchup is Steph Curry.
Shooting Guard- Dwyane Wade vs. Klay Thompson
Once again Dwyane Wade is past his prime but can still average a pretty good amount of points in the playoffs. He usually turns it up in the later rounds of the playoffs so that will be taken into account. Shooting guard for the Warriors, Klay Thompson is in his prime and his one of the best shooters in the game right now. He is a catch and shoot shooter and he can create his own shot. Dwyane Wade was a good defender but that has kind of faded because of his aging career. He will be able to guard Klay most of the time but Klay will still have the advantage since he is in his prime. Winner is Klay Thompson.
Small Forward- Lebron James vs. Kevin Durant
This is the matchup that will most likely determine the finals. Lebron James is one of the greatest of all time hands down. He could have retired four or five years ago and would still be inducted into the NBA Hall of Fame. Lebron is a four-time MVP which is the 3rd most anyone has ever won. He is a three time finals MVP, 13 all NBA teams, six all defensive teams and that is just a few of his accolades. That is not to say that Kevin Durant is also not a strong force in the league. In fact, he is the second best player in the league. He is a scoring champion, MVP, and NBA finals MVP. Kevin Durant averaged 35.2 points, 8.2 rebounds, and 5.4 assists in last years finals. Lebron wins this one just because of his pure dominance and well rounded playing style.
Power Forward- Jae Crowder vs. Draymond Green
This is an interesting matchup because Jae Crowder is a new addition to the Cleveland Cavaliers so we do not know how well he will fit into the system. Jae Crowder offers good perimeter defense and some scoring behind the 3 point line. Draymond Green on the Warriors is the reigning defensive player of the year and is a good rebounder. Jae Crowder offers more scoring but Green offers more in every other category. The winner is Draymond Green.
Center- Kevin Love vs. Zaza Pachulia/Javale Mcgee
The starting center for the Warriors is still up for debate and it is their weakest position in the starting lineup. There are really no accolades for either Warrior center unless you want to count Javale Mcgee's two-time Shaqtin-a-fool MVP (a show known for putting a  spotlight on terrible plays in the NBA). Kevin Love on the other hand is a four-time all-star and has the potential to be one of the best scoring big men in the game. He is second in points in a quarter at 34 points and the first is Warriors Klay Thompson with 37 points in a quarter. Kevin Love averaged a double double in the finals with 16 points per game and 11.6 rebounds per game. Clear winner here is Kevin Love.
Cavs bench vs. Warriors bench
The Cavaliers have a lot deeper lineup than the Warriors. The Warriors only have a couple good bench players like Shaun Livingston and Andre Iguodala. The Cavs have Derek Rose, J.R. Smith, Tristan Thompson, Kyle Korver, Jeff Green, and Channing Frye. All of those players offer something for the Cavs whether it be scoring, playmaking or grabbing rebounds. Cleveland definitely has the advantage in the bench matchup.
There are a lot of things to consider when deciding the winner of the 2018 NBA Finals, with the Warriors having the more talented starting lineup and the Cavs having the superior bench unit it is hard to gage who will come out on top. Lebron has only lost one back to back finals and that was 2014 losing to the San Antonio Spurs when he was on the Miami Heat and then the following year lost to the Warriors in the 2015 due to lots of injuries with his fellow Cavs. I do not see Lebron losing back to back to the same team. He will probably unlock some new form and get even better if that is humanly possible. He will figure out the Warriors system and his role players will help him win his fourth championship. The Cleveland Cavaliers will win the 2018 NBA Finals in a very close seven game series.
About the Writer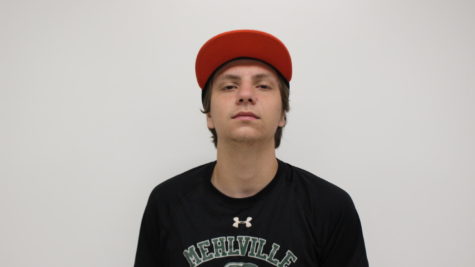 Gabe Keller, Editor-in-Chief
Gabe Keller is currently a senior. This is his third year in Mehlville Media. He enjoys writing and playing sports. Keller's favorite sports are football...