Mehlville's Drama Troupe #5022 Goes to ThesCon
The curtain is up. Mehlville Troupe #5022 takes the stage. ThesCon has begun. I'm happy to showcase me and my troups accomplishments.
Students from all over the state come together at the Missouri State Thespian Conference (ThesCon). Here they watch performances, learn in workshops and take part in fun activities, in just three days.
Many of the theater students call themselves thespians. In order to earn the title thespian, a student has to earn 10 points. This means they have to put in at least 100 hours into a theater production. Fifty of those hours must be from their own school.
Along with expanding their knowledge about theater, students have countless opportunities to showcase their skills. Students are able to submit their one-act (Page to Stage) or musical number (Musical Works) to a panel of judges and the selected piece is performed at the conference. Auditions are held for these performances and are put together in less than 24 hours.
Spencer Moore (stage manager), Kayleigh Henry (actor) and I (actor) participated in the one-act "Weather the Storm."
Some other competitive opportunities are individual events, tech challenge and improv intensive. Mehlville had participants in all of these events.
Tech Challenge: Alyssa Norrenberns, Abby Wall, Carolyn Buback, Chris Wilson and Lev Randle.
Improv Intensive: Me (the caption), Nichole Prodes, Tariq Malik and Christan Mana
Individual Event: Christian Mana and Tariq Malik (duet acting), Nichole Prodes (solo monologue), me (solo musical)
Every night at the conference, all thespians gather in the Kansas City Music Hall to see a live show, one of these shows being the All-State Show. Talented students from all over Missouri can apply to participate in putting on this show. Once accepted, they spend countless hours piecing together the production. This year's All-State Show was A Streetcar Named Desire, a Tennessee Willams play showing the disturbing uncensored life of the slums in Laurel, Mississippi.
Alyssa Norrenberns(lighting technician) and Abby Wall(scenic painter/member of run crew) worked on the play.
"It was a simulation of what it actually like to be in the theater world, and I really enjoyed seeing what it would be like," said Wall.
Another member left his mark at the 2020 Missouri Thespian Conference by claiming his stop as a Missouri State Officer. Josh Neighbors will be planning future conferences and helping collect resources for the state. Neighbors applied for this position to give back to the Missouri Thespian Society.
Congratulations to all who participated, you represented Mehlville well.
About the Contributor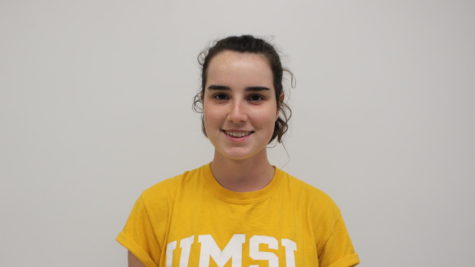 Veronica Mckelvie, reporter
Veronica McKelvie is a junior at Mehlville High School. She is involved in choir, orchestra, cross country, swim team, water polo and is a Drama Club President...